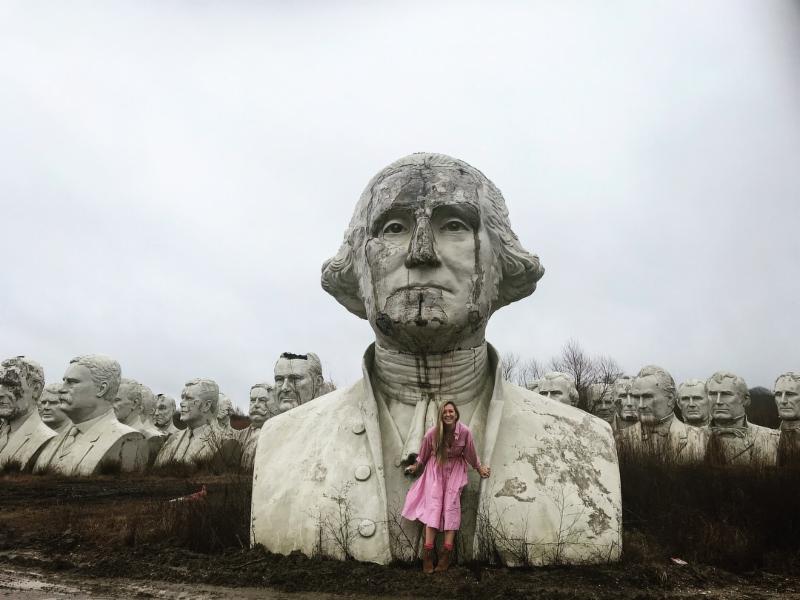 Drove 9 hours to see 20ft tall busts of our nation's heroes. Wbu?
Every now and again you have to cross your line to know where it is.
A few years ago, I clandestinely stumbled upon this 
Smithsonian article
 about a random farm in Virginia that doubles as a grave yard for 20 foot tall busts of our past Presidents. In a slight state of disrepair, the busts look like they're straight out of a post apocalyptic horror movie. The farm is a balmy 9-hour drive from NYC and strictly off limits (also in a state that inflicts heavy penalties for trespassing). From this, my new entirely consuming life purpose was born.  The Founding Father Fetish climbed to a whole new level.
First, finding a friend to willingly join proved…difficult. That was until one of my closest friends, 
@julesthemenace
, literally said "Sure" when I emailed her the link, with fuzzy details and full disclosure of the commute. Second, I found the business contact of the farm owner, left three voicemails, begged his secretary for his email, which then led to a few passionate essays.  He finally called me because I think he realized I wasn't going to stop and kindly agreed to let us onto his property on President's Day.
Our trip down the East Coast was full of "What are we actually doing right now"s, all the way until we reached Howard Hankins' property, where he was waiting for us at the mouth of a long dirt road. The farm doubles as Howard's business location, and in lieu of the recent publicity of the busts, security has been tightened and prosecution for trespassing is severe. Howard led us down the dirt road that looped around his home, and in a clearing among hills of sod and soil, was one of the most breathtakingly eerie sights I've laid eyes upon. As I try to find words in hindsight to capture the magnitude of their sheer size, the solace of their setting and the deeply profound message behind the display, I'm still speechless. Which is clearly something I'm not used to being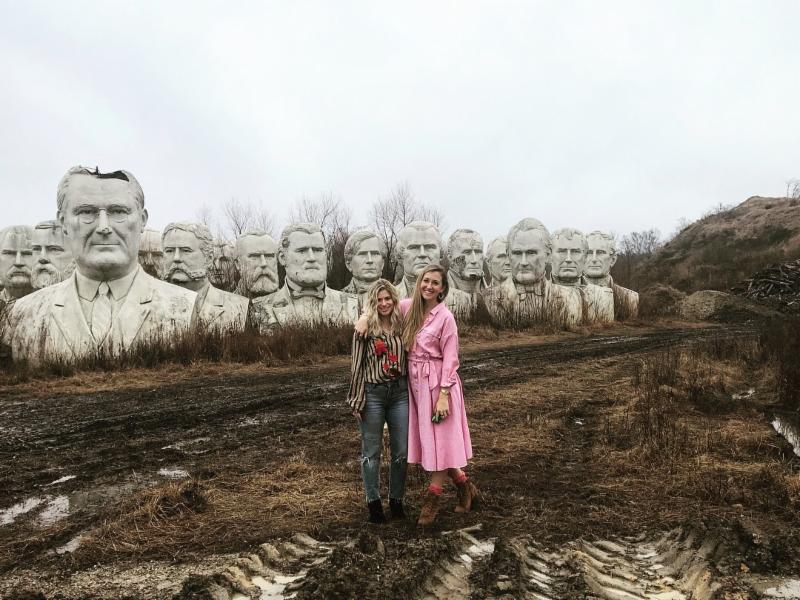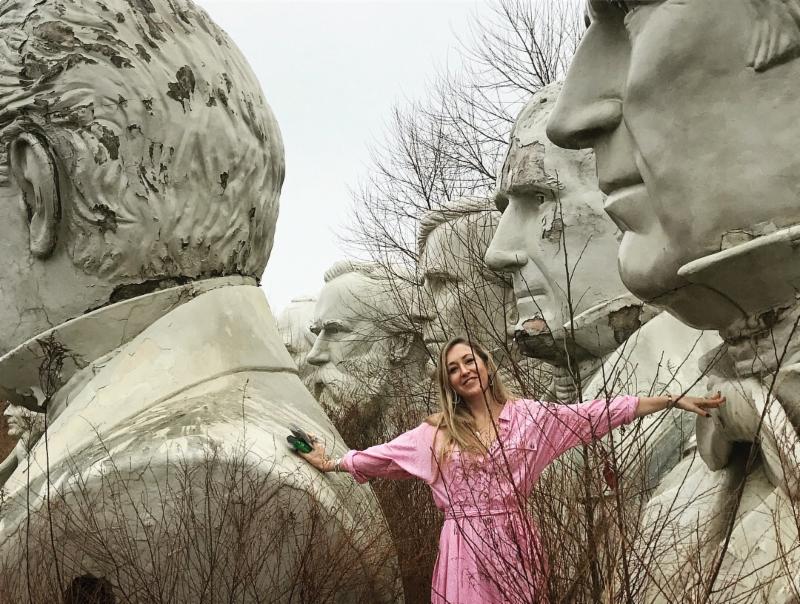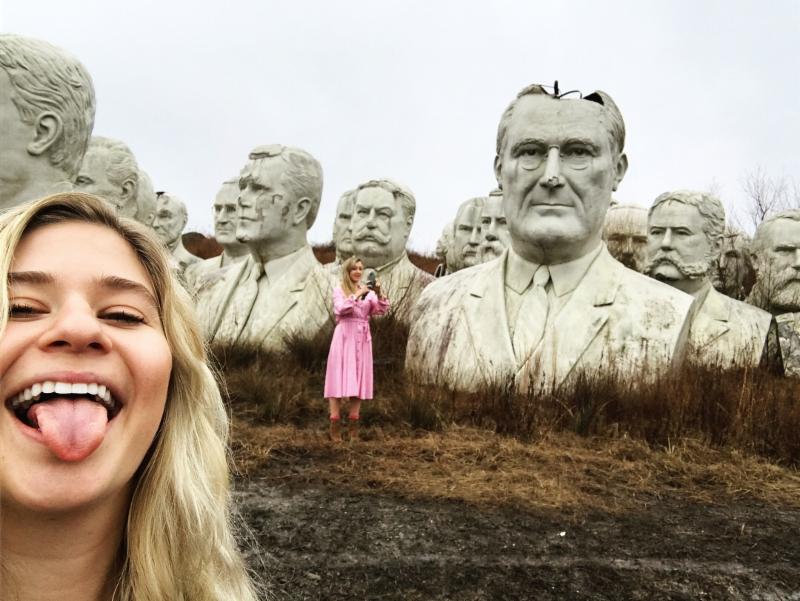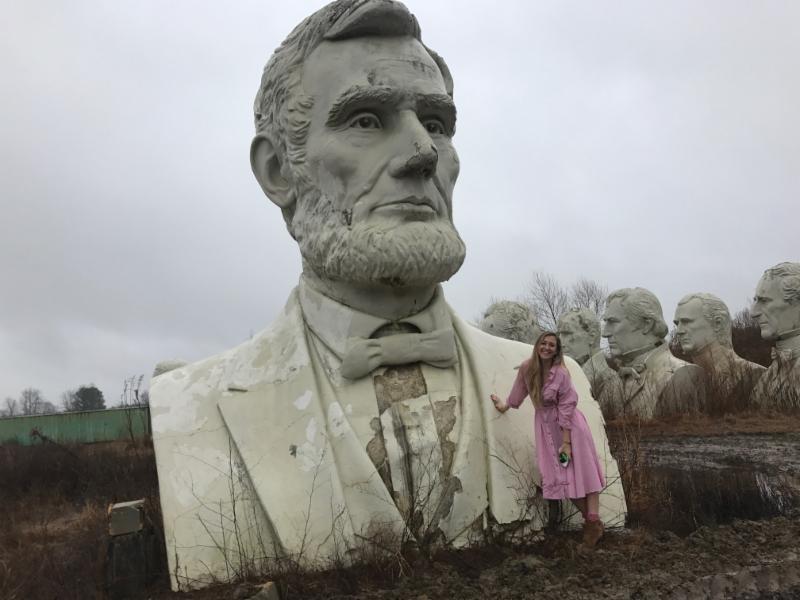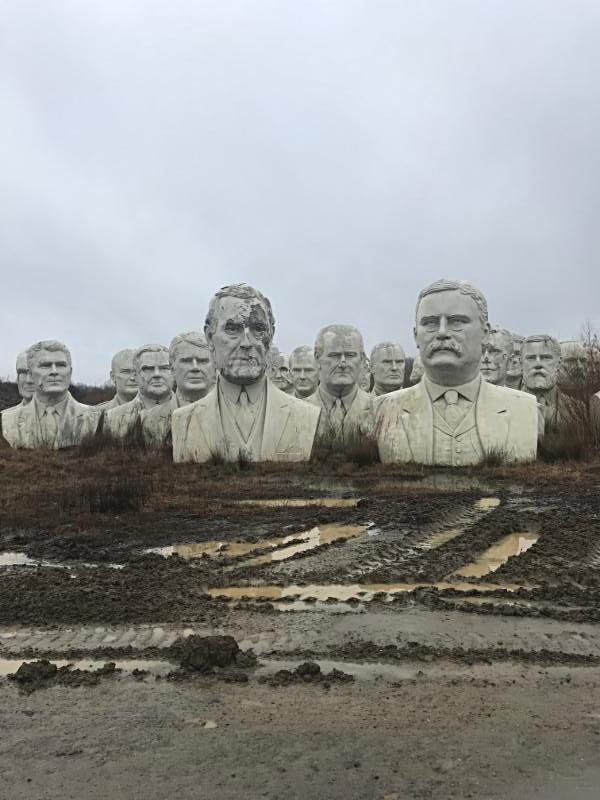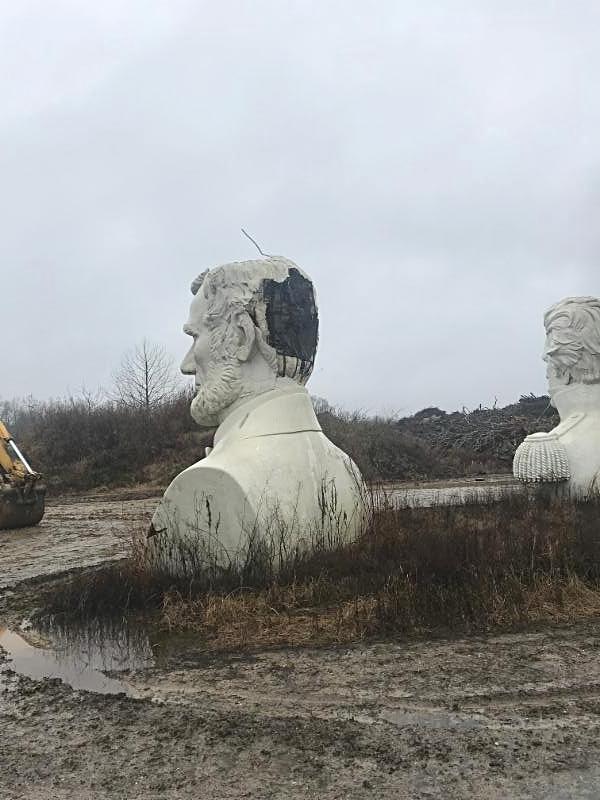 The busts are the remains of 
Virginia's Presidents Park
, an open-air museum that fell into foreclosure. Hankins rescued the heads after the Park's owner asked for his construction company to destroy them prior to auctioning off the land. A true American patriot, he moved the 43 giant presidents, weighing between 11,000 and 20,000 pounds, to his 400-acre farm ten miles away. The process took a week and cost about $50,000, not to mention damage done to the busts; Lincoln boasts an ghostly hole in the back of his head similar to how he met his demise, Reagan bears a scar from a lightning strike. Hankins is 
working feverishly with multiple historic organizations
 to help preserve our past so future generations understand where we came from and by whose hands we were built.
As someone who has come to a greater appreciation for the sacrifices of our nation's leaders due to this late-in-life George Washington infatuation, seeing their renderings, stoically lined up in a shrouded field of dirt, in varied states of decay speaks to the truth of their legacies in the minds of modern Americans. Regardless if you agree with their politics, policies, and decisions, they gave their lives for the perseverance of our country and many of their stories are largely forgotten in our country's fabled narrative.