A story about him that he would like me to share with all of you
For my dad's birthday, please gather round for a Lawton Family story my dad has requested I write and that I dearly hope will someday go viral.
If you haven't had the pleasure of meeting Rick, he can best be described as a very cuddly version of Park and Rec's Ron Swanson; however instead of being filmed in Pawnee, Indiana, imagine downtown Boston. While Rick is by no means a shopaholic, every now and again he'll buy something so nonsensical that it unravels into anarchy. Like when Rick became one of the first 10 people in the US to own a military grade Hummer as his civilian car – see below for a picture of my front yard in 1996; those Hummers took up almost two lanes on a highway…clearly subtly is not a family trait: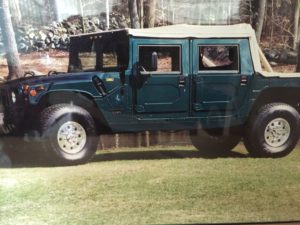 So fast forward to the spring of 2016 – Rick called me to let me know his best friend, Tommy Doyle (Yes, Tommy Doyle is a real person not a character from The Departed), bought him a 25-foot tall palm tree which he intended to plant in the front yard of our home on Cape Cod. After spending 18 years of my life in New England, I can confidently tell you that it is not a place for tropical plants. Rick offered a rebuttal being that the Department of Corrections has a private greenhouse and his friend, the Sheriff (because it can always get more ridiculous), said he could store his tree there during the winter. Rick has made it 60 years using this logic, successfully I might add, and I wasn't the person to stand in his way so up went the tree.

Through the summer, Rick gave more love to that tree than what Google probably recommended him. For a tree native to dry areas, I'm sure it thought it was being waterboarded by Rick's artificial monsoon season. But the love was real and as we crept into fall, Rick no longer wanted to part with the palm. Rick was determined to defy mother nature in the name of love.

Sometime in October, Rick called me with the solution. On some public forum, which I can only assume was Reddit, a user posted that if you wrap the tree in electrical wire and insulate it fully, when the temperature drops below 40 degrees, you just plug the electrical wiring to the house and *ta-dah* the tree is nice and cozy. Wrong, Rick, that is a volatile fire hazard. The tree will literally be cooked.

The following Sunday, I was saddled up in a coffee shop writing one of these newsletters, and off went Rick to winterize his baby. Three hours later, Rick is frantically calling me. I pick up and immediately on the other end in full panic, "Shit, shit, shit…oh mannn…I really messed up. Oh god." "Dad, you got all your fingers? Missing any limbs?" was the natural first question anyone would ask. "Oh god, ohhh no. Shit. I…I can't really explain what I did…oh my god, people are in the front yard taking pictures, I have to go -" click. My mind began to fester with all the completely outlandish things that my father could've possibly done. Two minutes later, I received the below picture of what was formerly a 25-foot tall tree in our front yard: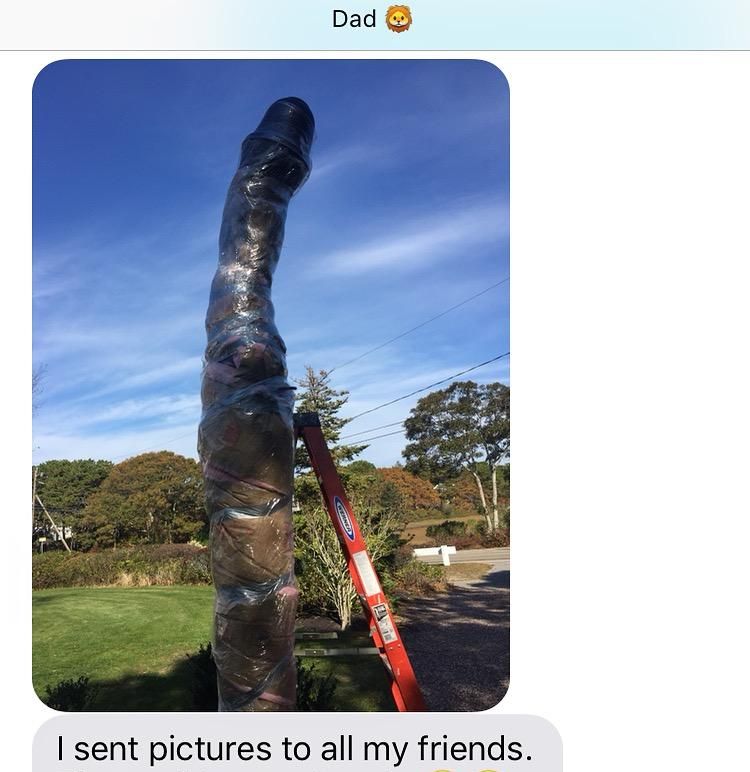 To answer questions you may have as logically thinking folk, yes, this stayed prominently on our front yard through the spring, which faces a popular ocean view road in our bustling town. Yes, my mother was absolutely livid because we host annual Lawton Family Thanksgiving. No, Rick claims he had no idea it looked like that until he stepped back after completion. Yes, Rick did receive complaints from concerned neighbors/the town. No, the tree did not survive – it was charred completely through. Yes, Rick has continued to do this every year in hopes he can keep one alive. Lastly no, palm trees are not cheap.

HBD Rick, you legend.