All of the Magic of Supermoon Bakehouse
People are strange. Particularly with justifying behaviors, opinions and purchases that all starkly oppose prior, somewhat-related actions. For example, take Millennial "A". Millennial "A" will be egregiously upset that the MTA monthly pass has increased from $31 dollars a month to $33, yet he/she will gladly throw down the Amex for 3 vodka sodas that clock in at a cool $50.  When dining out, he/she will skimp a few dollars on tip, lowering the percentage from a 20% to 15% tip, yet after the meal, will easily summon an Uber even though it's surcharging, the weather is tolerable, trains are running perfectly fine and there's no immediacy on his/her arrival to the destination…just simply because.
While I'm constantly baffled by people, I must concede to failing victim to this backwards way of spending money, but acutely in the arena of beautiful food.
Supermoon Bakehouse
 in the Lower East Side has created an actual human trap for myself and the large swatch of others who suffer from the same moral defect. Opened by an 
Australian chef who gained massive notoriety for his bakehouse in San Francisco
, Supermoon features decadent, over the top pastries, futuristic packaging, an aesthetically pleasing interior and plenty of like-minded others ready to drop $8 on a banana split croissant topped with gold-leaf in lieu of getting toilet paper for their apartment. Recently my friend Jess was tasked to get a half dozen treats from the bakery so naturally I offered my support…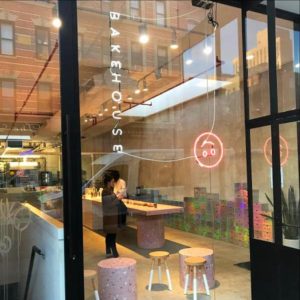 Pro-tip #1: pick your friends based upon similar fancy food habits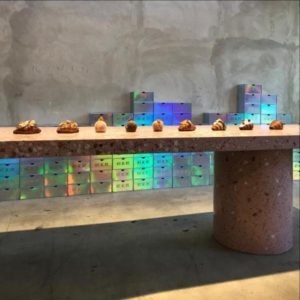 So in my shameless travels, I can confidently say I have never seen a more stunning display of baked goods in my entire life.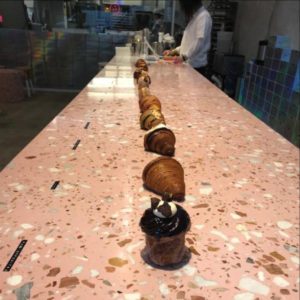 I mean, the stone table that displays these royal goods alone must cost a handful of G's. So working our way through some of these…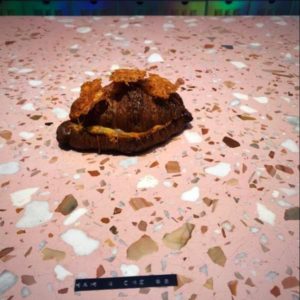 The Ham & Cheese Twice Baked ($8), with thick cut smoked ham, Gouda cheese, cheddar cheese and a super creamy bechamel sauce baked in a classic croissant and then topped with crispy cheese shards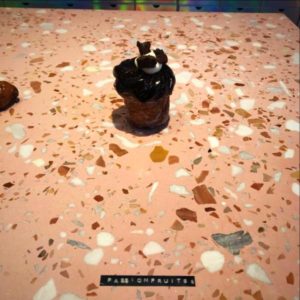 The Chocolate Dipped Passionfruit Cruffin ($6), filled with a passionfruit curd, dipped in chocolate, and topped with a white chocolate bulb and chocolate crumb clusters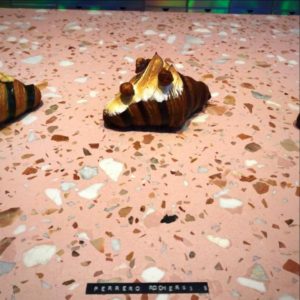 The Ferrero Rocher Bi-color Croissant ($5.50) filled with a toasted hazelnut praline and dark chocolate ganache, dipped in meringue then torched, further topped with cacao powder and roasted hazelnuts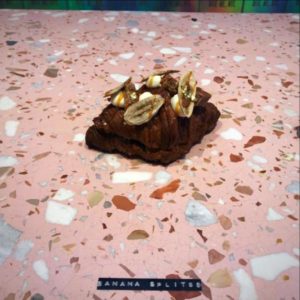 The Banana Split Sundae Twice Baked Croissant ($8) – inside: whole caramelized sous vide banana, chocolate almond creme, banana caramel sauce, vanilla creme patisserie…on top: chocolate fudge, banana caramel sauce, dehydrated banana, whipped cream bulbs, and gold leaf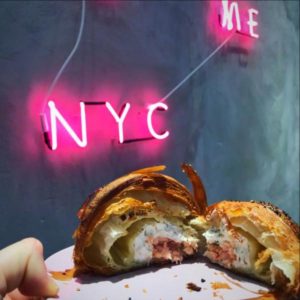 The NYC (New York Croissant) ($7), with lox, cream cheese, capers, rolled and baked into an everything spice covered croissant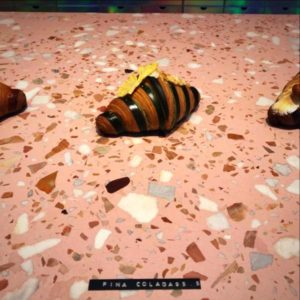 The Pina-Colada Bi-Color Croissant ($5.50) – a dual core croissant filled with a coconut rum creme patisserie and a pineapple jelly, topped with dehydrated pineapple fan and toast coconut flakes
To offer some parting guidance in case you don't share the same genetic predisposition to impulse purchase $60 dollars of baked goods.
#1 – Passionfruit
#2 – Cranberry Almond
#3 – Ferrero Rocher
* note: no brioche donuts were judged in this very professional assessment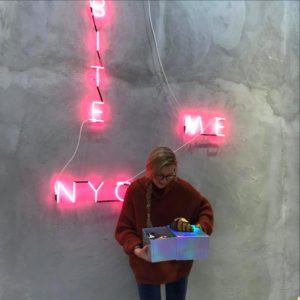 Somewhere up above, my ancestors are looking down at my life and itemized bank statements for the month like, what the…