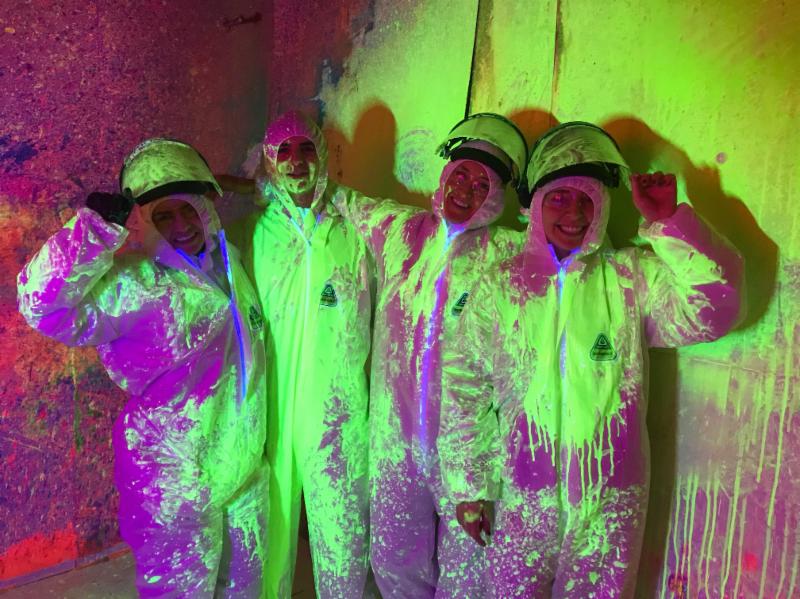 Beat the Bomb
^ hobbies include closing the elevator door just before someone else gets on and going to random warehouses to live through paint bombs
a
If I can speak collectively for the group, I can confidently say we all once possessed a deep desire to compete in the arenas of unadulterated glory that were Guts, Double Dare, Legends of the Hidden Temple, and Figure it Out. At their prime, I asked my parents if we could move to California on at least one occasion so I could apply to be a contestant. Oh you have a life, a career, and family in Massachusetts? How dare you rob me of my chance to battle in the Extreme Arena for the Aggro Crag? What is the worth of my youth if I don't get to don an Orange Iguana t-shirt and chance contracting severe post traumatic stress from Olmec and his team of temple guards? If I'm not tested under unrealistic time constraints to find a red flag by picking an 8-foot tall nose do I even deserve the cherished treasures of a Huffy bicycle or a Yamaha keyboard?
For all of you suffering from the same resounding void, your options are years of therapy or the below experience: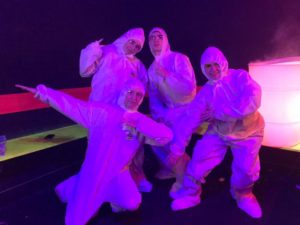 Located in Dumbo Brooklyn, 
Beat the Bomb
 is what has best (and accurately) been described as "Mission Impossible meets Double Dare". In this amalgam of escape rooms, immersive theater, and 80's movie endings, your team of three to five people, while wearing hazmat suits and facial protection, must use intelligence, speed, and stealth to defeat high-tech "security systems"and defuse a paint bomb before it explodes. We were told that only 5% of people defuse the bomb.
Spoiler: we were not in the 5%
I brought my friends Carolanne, Ellie and Owen without telling them what they were walking into (because, to be honest, I didn't know myself) and I don't think I've laughed this hard in a long time.  What promised in the very lease to be solid instagram fodder ended up being one of my favorite extremely random New York City adventures to date. One done completely whilst sober.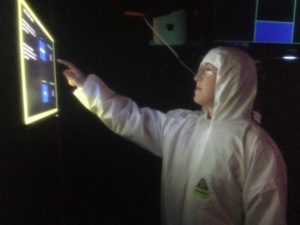 Through the first four rooms, you complete various challenges in order to accumulate time, which will be the only time you have allotted to dismantle the bomb in the fifth and final room.
Room #1 consists of five screens on opposing walls, each requiring instructions from another to clear tasks and pass the level. All to the soundtrack of extremely loud house music. High level: this led to a lot screaming and general panic. Did I mention the house music?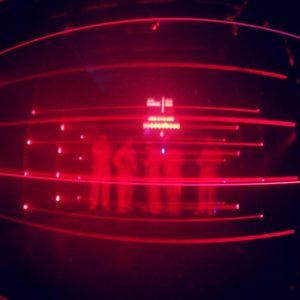 Room #2 requires getting across a long room through a maze of lasers, however crossing any of the beams costs your team a life. As the minutes tick by, the patterns became trickyier and for us, tensions rose. You only have so many lives to pass a level. Fingers started to point. The hazmat suits started to become very warm. Goggles were foggy. Hope was fading. We realized how taxing constantly bending down is.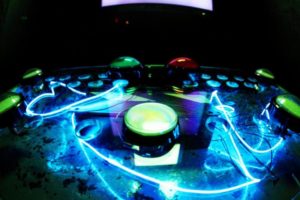 Room #3 really strained our group, I would say. You are given a pattern of tones and have to replicate the pattern using unmarked buttons that produce those very similar tones. This has to be done in a very small window of time with a strict "Fail" policy. Let's just say that this was our worst showing of intellect, remorse for others, and general musical ability.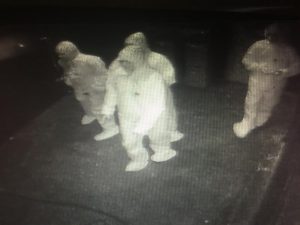 Room #4 can best be described as human minefield. As we were learning from prior rooms, our confidence from the first 2 minutes of play was quickly slashed as the increasing difficulty showed our general lack of coordination, focus, and spacial awareness. Being in a plastic full body suit with googles, while stressed out and panicking in closed room with no ventilation gets sweaty.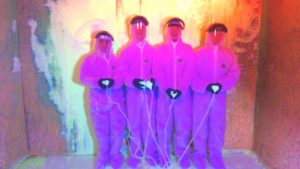 Room #5 was our moment of truth. Think of an elaborate video game where each of you controls one direction of movement for a machine, which you simultaneously coordinate to complete 10 tasks in a small amount of time. We lost (no surprise there) so behold 
the moment of the paint bomb…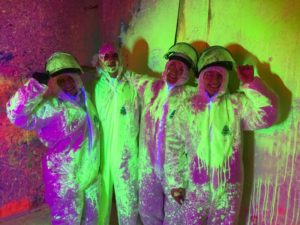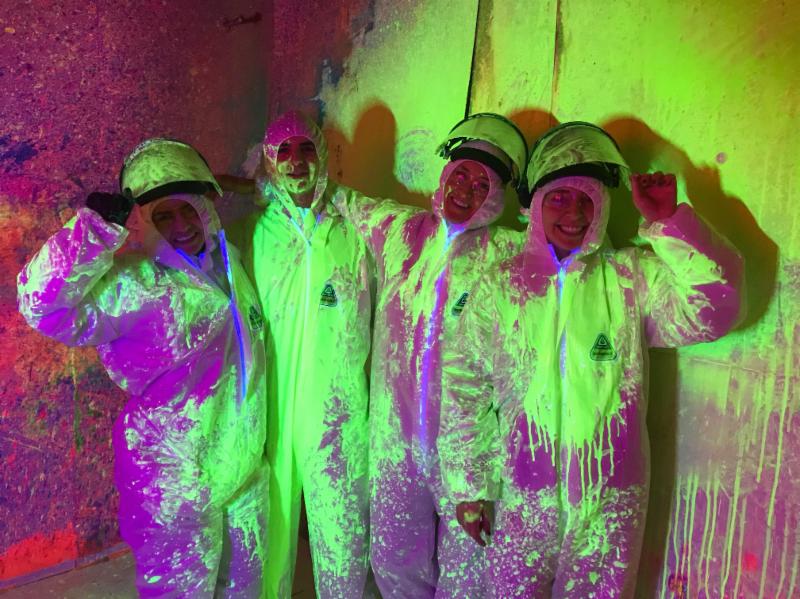 So the "bomb" was more powerful than we expected.  Essentially it is like getting hit with a few gallons of paint through a fire hose. Owen's helmet blasted off, as it appears he clearly took the brunt of the blow.  I have to say, all in all, I'm happy we were in the 95%. Being clumsy, aggressive, tone deaf and easily distracted finally paid off.
The experience in total is about 60 minutes: that includes a 5 minute introduction, 45 minutes of game play, and a 5-10 minute exit process. All for an easy $39 – which if we're quantifying the price tag, I must say is 10/10 times better than 2.5 drinks.