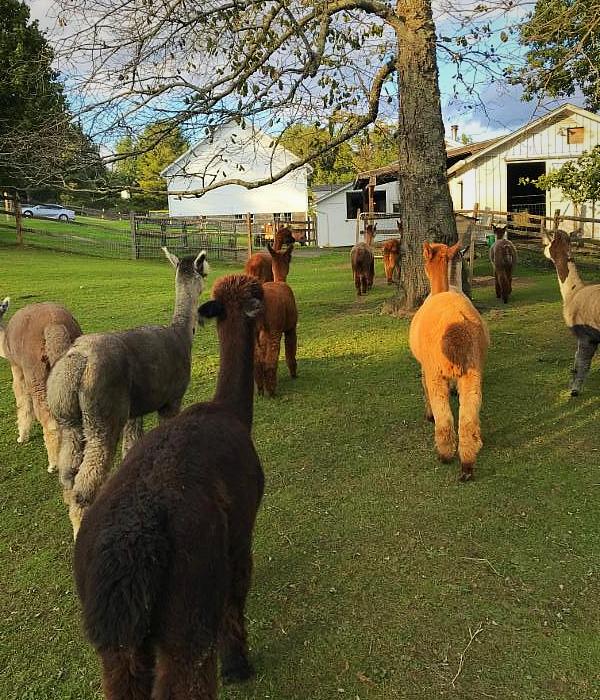 I went to an Alpaca Farm.
New York City is like a giant playground for grown adults with slight ADD and who are comfortable with a particular level of disconcerting and acknowledged filth. If you live in New York and you find yourself bored, it isn't the city's fault – that, my friend, rests solely upon your lack of curiosity. Now, you can fill your time bar hopping and restaurant perusing however that will leave you in the green for caloric intake and in the red for cash in your pocket. While New Yorkers tend to regard other boroughs as far off lands requiring a pilgrimage to reach, the metro north can jettison you to adventures that shake things up and don't break the bank.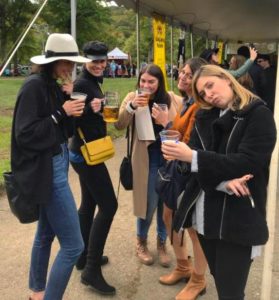 So this month, a group of my wonderful, laid-back, down-for-anything friends were convinced into going to a Llama farm in Yorktown Heights (albeit, it was prefaced with being the second part of a twofer that started with Oktoberfest at Bear Mountain) and it was one of the most wonderfully odd excursions I've gone on in New York.
Again, they were baited with beer and and schnitzel, which is essentially a Happy Meal for Adult German men.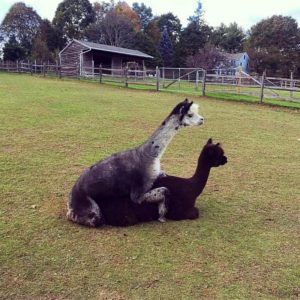 I had contacted 
Faraway Farm Alpacas
 about private tours and the owner, Leda, finagled us into her busy schedule and for a $15-a-person, hour long tour before the alpacas went to bed at 5pm. Because these mini-camels have a bedtime.
We'll discuss *getting* to the farm later, but prompt upon arrival we were greeted by two lady llamas engaging in, well, this. Mardi Gras (the gray alpaca) apparently is fond of Layla (the chocolate alpaca), and this embrace was a constant throughout the tour.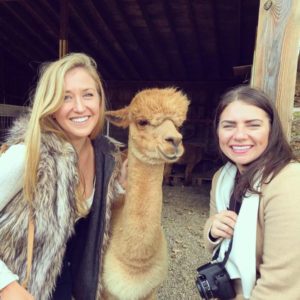 Fast forward, Leda introduced us to all the ladies, who were grazing. Apparently they wake up, eat, sleep, eat again, sleep, eat more, then go to bed. Even when the male alpacas are introduced into their area, the ladies prefer to eat instead of engage them. I love nature.
Also alpacas are constantly smiling, partially because they have zero mortal life stresses and but I really think it's this "no expectations from society" set-up.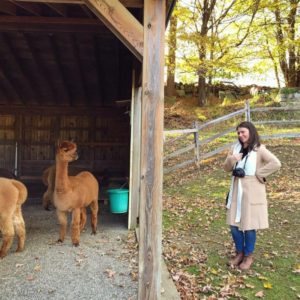 Leda was born in Brooklyn but at a young age, her parents decided to raise the kids in the country and moved the fam to the middle of nowhere. Since all their city friends gave them hell because they were now so far away, her parents named it Faraway Alpacas Farm.
The farm is gorgeous and exactly the idyllic, secluded, pastoral setting you would expect – the exact opposite of what you'll see on Orchard and Rivington in the Lower East Side at 2am on a Saturday. However both locations are an ad hoc zoo when you think about it.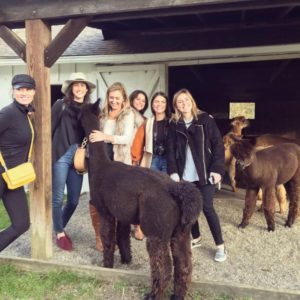 They eat a bail and a half of hay-a-day and with bails clocking in at $8-a-pop, they are a more economically advantageous route than children.
Alpacas don't go to college and crash cars. They may spit but they don't Snapchat.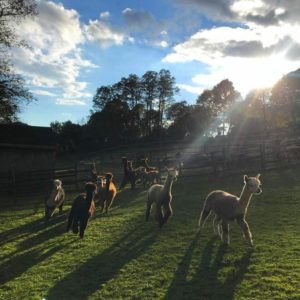 What we learned today was that alpacas are the most majestic yet completely useless creatures. This farm had 25 llamas and 2 Norwegian ponies. No chickens, no produce, nothing sustainable. Regret to inform everyone that Faraway Alpaca Farm will sadly not be surviving a nuclear apocalypse.
a
But imagine waking up everyday to this…*reconsiders entire life trajectory*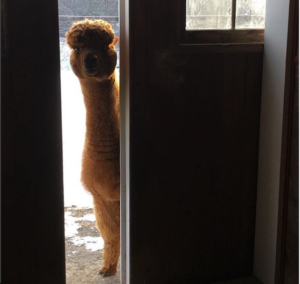 Since Oktoberfest at Bear Mountain is only during October, I personally would recommend this line-up: take the Metro-North to Peekskill, do a morning-through-afternoon-hike at Bear Mountain, arrange for a cab driver to pick you up at bear mountain, drop you off at the farm, pick you back up an hour later, and deliver you back to Peekskill. Pro-tip: you have have no cell phone service in Upstate New York so get ready to dial things back to 2005 as Uber and Lyft aren't an option. Cab drivers will ask for fare in advance – there's definitely a risk they'll never come back for you but your only option is to buy into the weird gypsy honor system.