New York's Newest Tex-Mex Star, Yellow Rose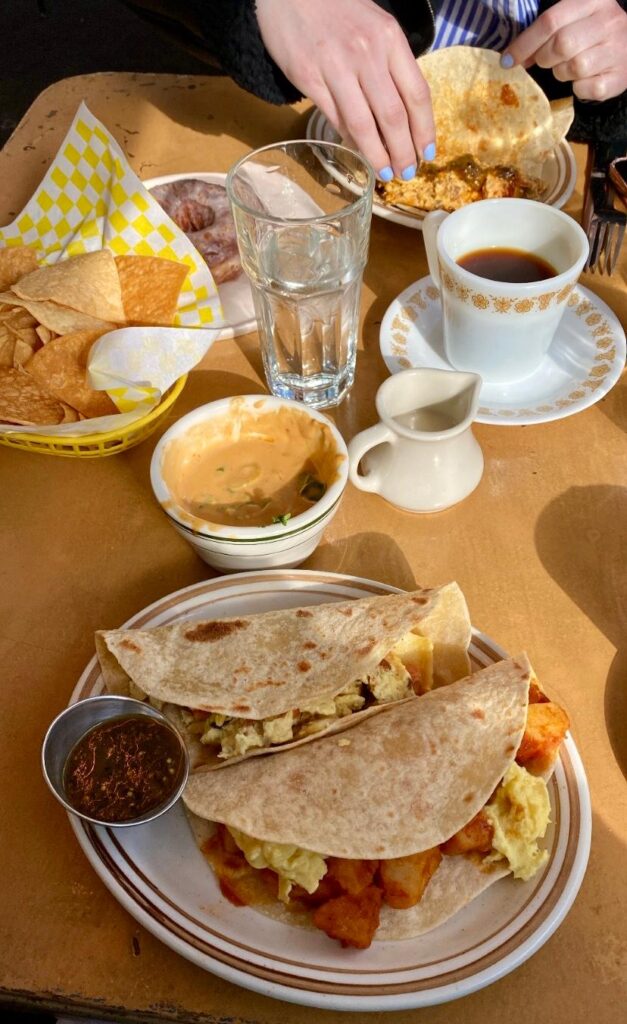 Similar to how now we look at the blithe use of asbestos all across America before 1980s with belittling judgement, I've recently been ruminating on the sustenance that fueled our growing bodies during the most crucial years of development with the same disparaging sense of awe.
As we now live in a gluten-dairy-sugar-dye-GMO-MSG-hormone-free world that has vilified processed foods, I would just like to call out the backbone of the diet that served as the building blocks for our now-fragile bones. Remember the orange juice alternative, Sunny Delight, that was 100% sugar and entirely orange food coloring? While we're still on the orange dye train, I cannot comprehend the sheer amount of highlighter orange powder I've ingested after forcing it into a paste with full-fat cow milk, only to then coat macaroni well beyond its shelf life with it. Did no one call attention to the fact Surge had 14 teaspoons worth of sugar in it? While I know Lunchables had to walk so charcuterie boards could run, was no one disturbed that these didn't need refrigeration? Also, what is actually baloney?
However, one shining star from that trash fire was the Choco Taco, the genius delivery system for vanilla ice cream, crisp chocolate, crusted peanuts, and a soggy waffle taco shell that had a eerily strange resistance to teeth.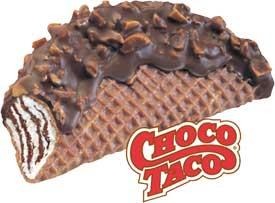 So fittingly, when asked what my favorite taco is, I have to stop myself before I say "Choco Taco" so I don't sound like I was raised behind a gas station and lack any basic sophistication. Instead, I usually default to the second most disrespected and under-appreciated taco: the Breakfast Taco.
BECs are lazy, bagels literally go immediately to your thighs after 30, and while waffles are a power move, ordering them regularly compromises any credibility. Breakfast tacos are able to deliver you all the flavors and ingredients you want in your meal in an efficient manner without excess carbohydrate-laden fluff. While they seem simple, perfection isn't guaranteed and excellence is rare. That's why I hesitate to spill the beans about Yellow Rose in the East Village. This quirky Tex-Mex spot is currently crushing their breakfast and dinner rotation, lacing both meals with some of the best yet deadly margaritas in the city. If the yelp reviews aren't enough, the city's top restauranteurs are posting high praises on their personal instagrams about this spot incessantly, which is the most resounding validation you could ask for.
So in typical fashion, my friend Frances and I went there one morning to "assess" so I could pen an overly dramatic take and chalk it up to a creative writing exercise.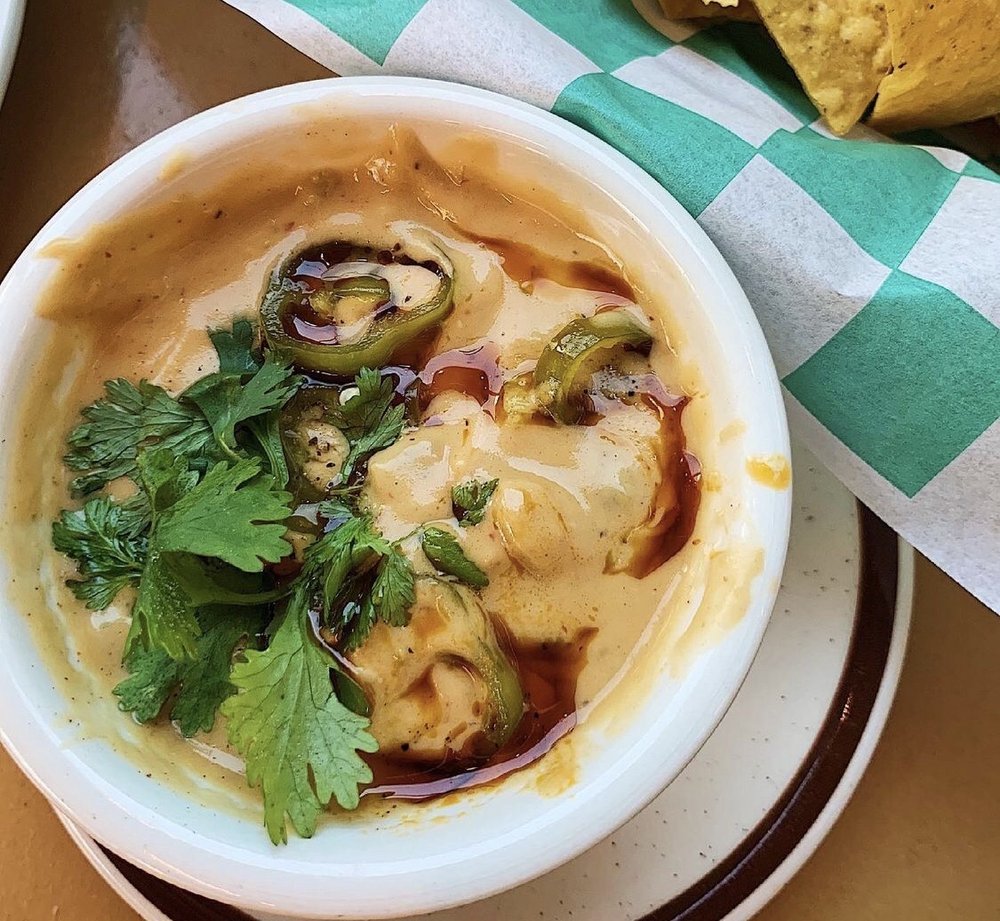 Vegan Chips and Queso – cashew queso, pickled peppers and corn tortilla chips
Remember that nauseating instagram "challenge" during the height of lockdown where couples posted their first picture together and had to tag 5 more couples to do the same, all while driving a shiv deep into the backs of their single peers who hadn't been touched by another human being in 45+ days and why the poster felt…anyone else cared…made absolutely no sense?
The same sense of inarticulate stupor comes with simply how *good* this epitome of a culinary oxymoron is and how it somehow has the same density of melted cheese. Order this…unless there's the smoked avocado dip…
Grade: 9/10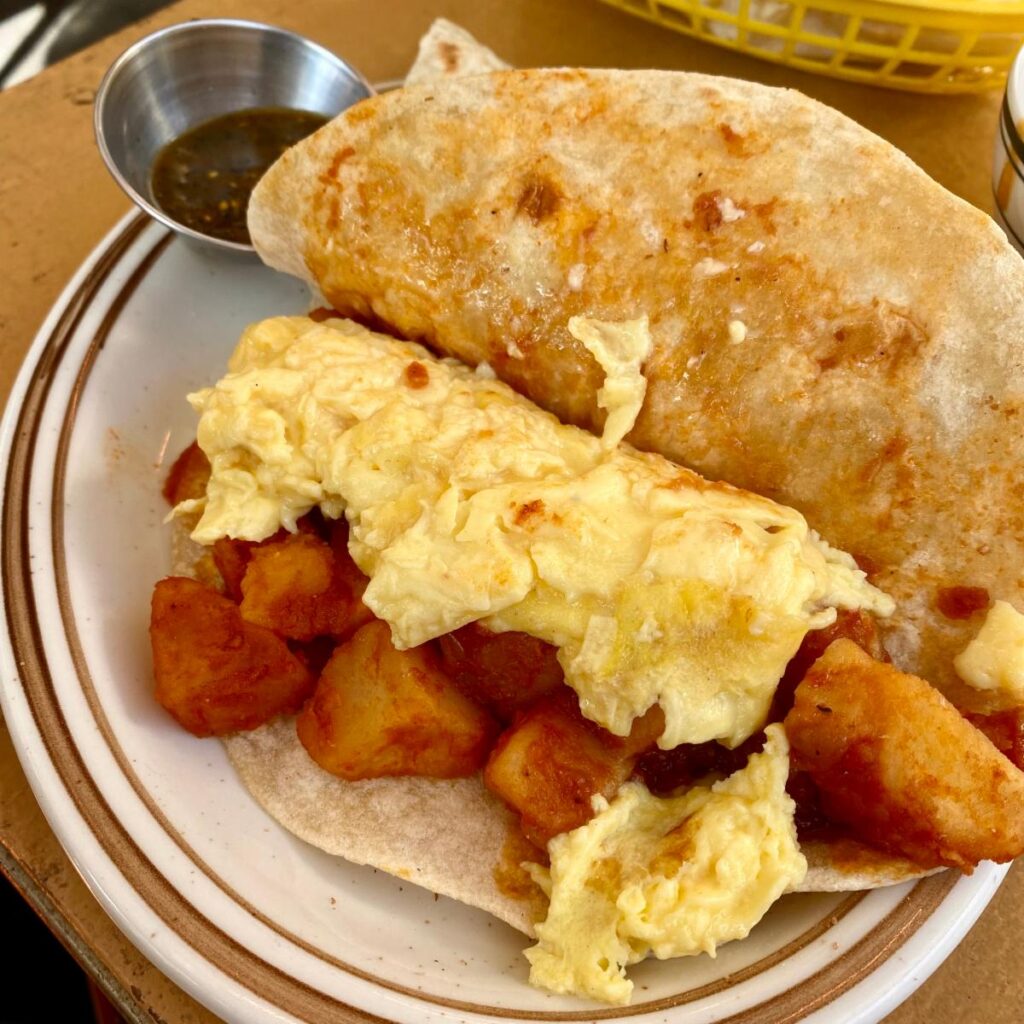 Papas Rachera – fried potatoes tossed in ranchero salsa with Egg
Remember that primitive time in our social media existence when you didn't dare leave your house without your digital camera, a bulky burden that didn't fit in pockets, which was ok because you were always busy taking 45 pictures of an almost identical scene, which you'd upload to some unpolitically correct titled Facebook album hours later? While these pictures in hindsight may look irritatingly repetitive to the untrained eye, it was truly art, only to be appreciated by those that understood.
Potatoes and eggs are the most overdone breakfast duo, always looking similar regardless of quality of the product or prestige of the chef. However, these are different – the Facebook album cover of the breakfast classic, if you will.
Grade: 9/10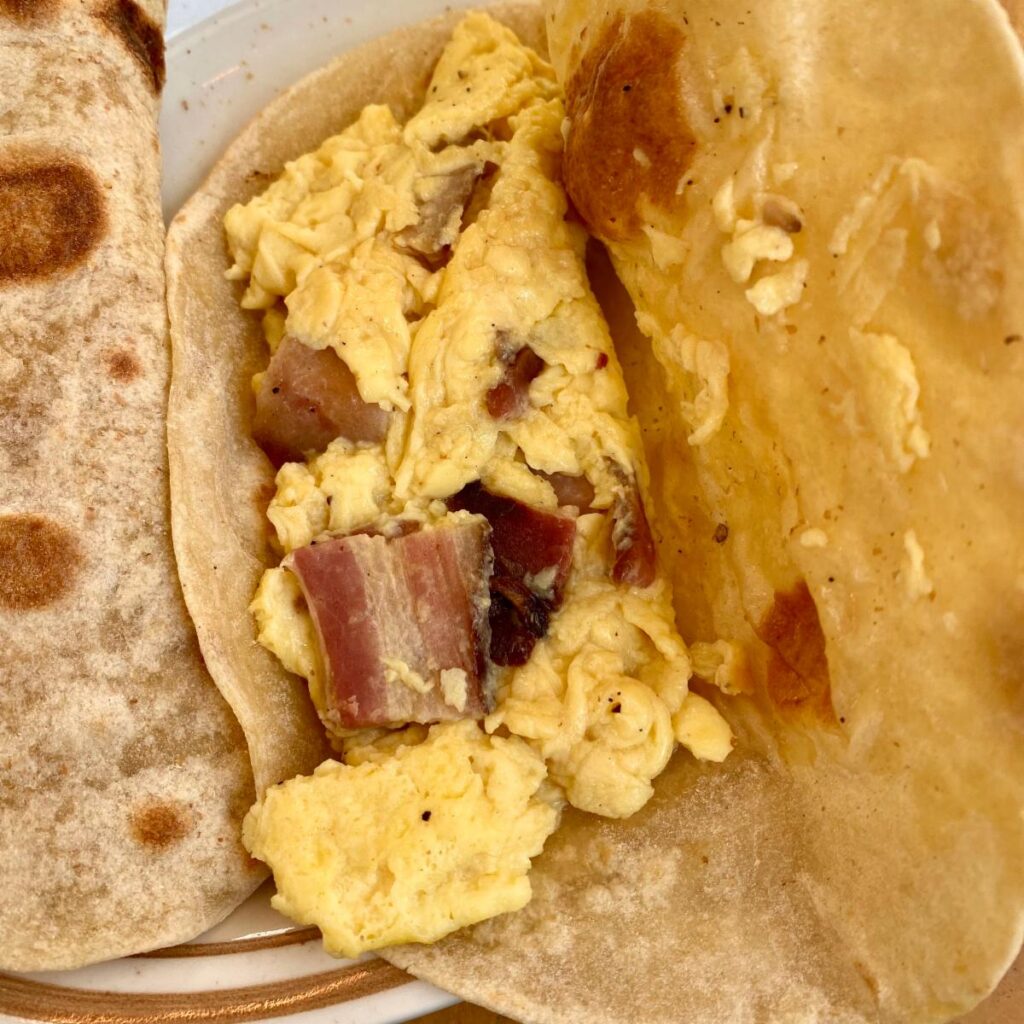 Bacon & Egg – house mesquite-smoked bacon
Remember when you'd be in your family room, deep engrossed in an episode of Saved by the Bell, then all of a sudden, you'd hear the faintest door opening noise coming from the computer room and immediately your heart skipped a beat because this meant your crush may have logged on. Ricocheting off the couch, you'd hurl yourself into the other room, violently shake the mouse to wake the monitor up, tear your away message down, then begin your silent vigil waiting for their message.
Each piece of thick cut bacon found folded into these soft scrambled eggs will give you that same rush, filling your heart with hope that there's more, that this isn't the last bite, that this won't leave abruptly from your life with the slam of a door.
Grade: 8/10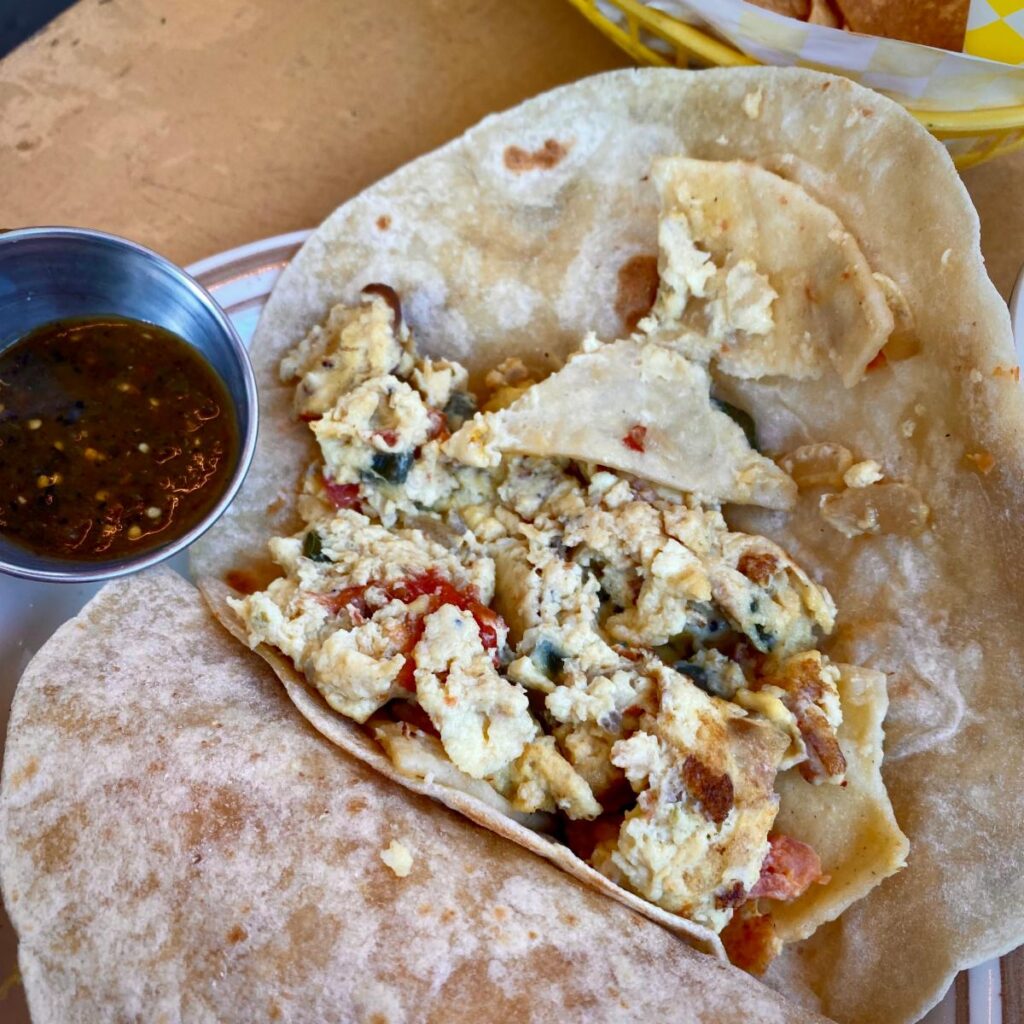 Migas – fried corn chips, poblano, onions, roasted tomato in scrambled eggs
Profile:
*~*~watching she's all that, IM if ur hot~*~*
________________________________________
33/F/NYC"It's the freakin' weekend baby, I'm about to have me some fun" – Ignition, R. Kelly
143 SE*JS*DK*AS*MK*FF*EF*VP
"iT's A dAmN cOlD nIgHt, TrYiNg To FiGuRe OuT tHiS lIfE" – avril
>>>>My Myspace!<<<<
This taco is about chaotic as AIM profiles. Not that it's a bad thing necessarily, it's oddly quite delicious, but just anarchy in a tortilla.
Grade: 8/10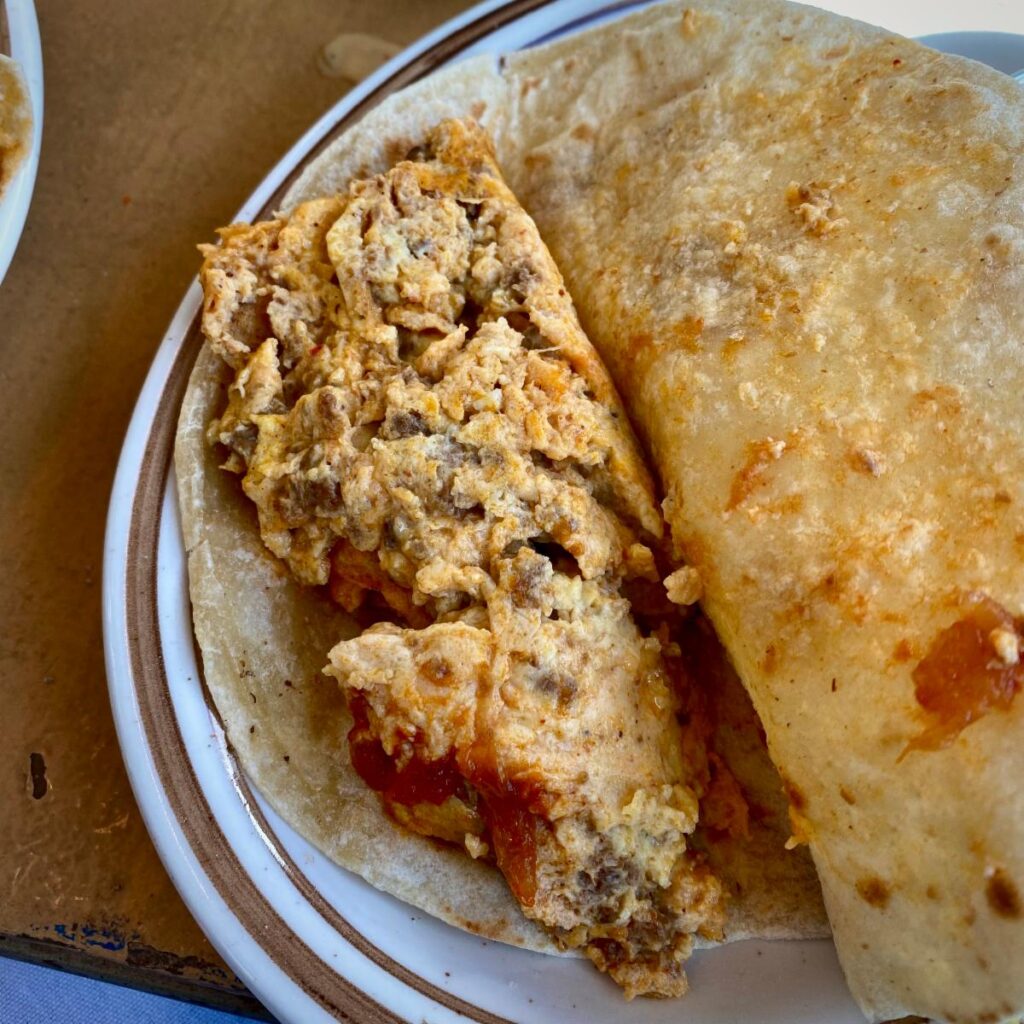 Chorizo & Egg
Remember before your unabashed abuse of Siri, Alexa, and the Amazon customer service chatbot, your original AI victim was SmarterChild. I stand by that modern day rampant gaslighting is solely a product of persistently peppering SmarterChild with sexual advances only to quickly switch to verbal abuse to try to phase him. Candidly, I have had better conversations with SmarterChild than most men on dating apps, but I digress.
The same oscillation between intense hate and profuse adoration plagues this taco, it's excessive and inadequate simultaneously. But a solid order that can handle both love and libel.
Grade: 6/10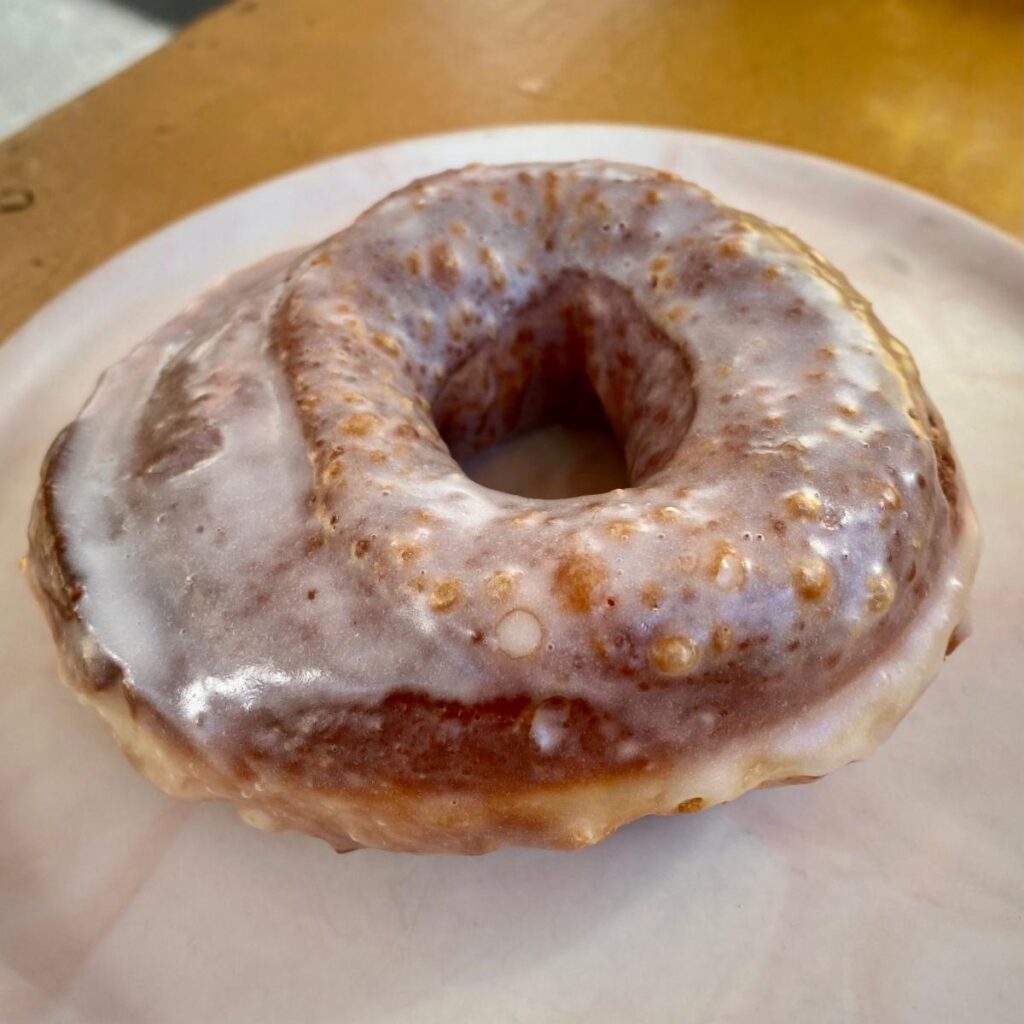 Buttermilk Glaze Donut – buttermilk brioche dough
Remember the dark ages of instagram, when every lowly user was given all-knowing surveillance of the activity for everyone they followed. You'd see every like, comment, and follow for the accounts you interacted with/ stalked the most, the birth of metaverse speculative infidelity. Every day, you'd see someone you knew – possibly were dating – like some absurdly sexual picture that somehow passed the "is it porn?' filter, just unnaturally voluptuous and shameless public erotica that made you question if these people's parents followed them.
This is how we felt ordering this donut. Leering glances from other tables as the donut was marched out and placed before us, a pastry enveloped in shrouded jealousy.
Grade: 10/10