Wu's Wonton King on the Lower East Side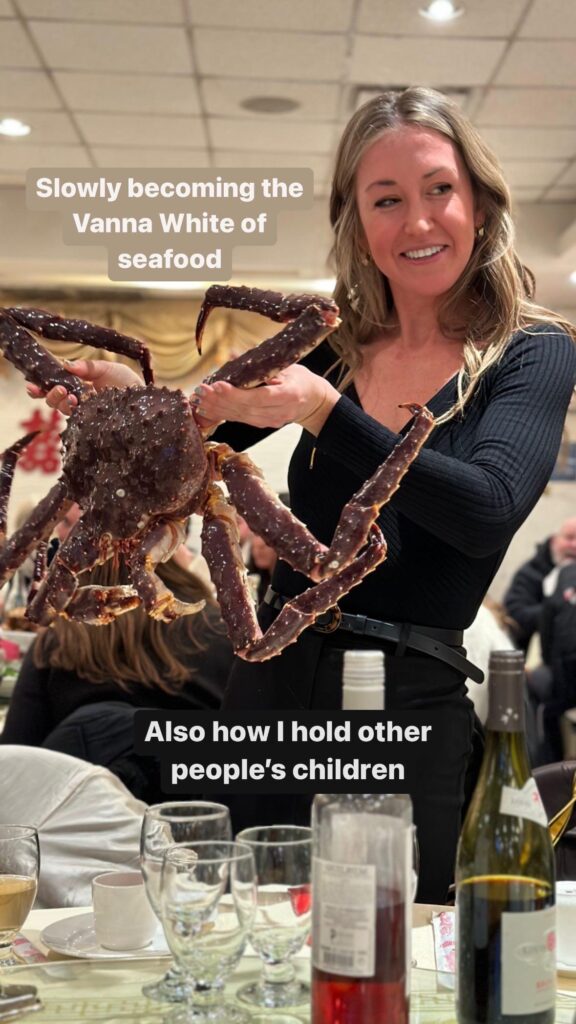 I would truly love to be one of those people who enjoys a quiet night in with a bottle of wine. I'm sure my general anxiety would be a peg or two lower if I was content sipping a Sancerre while sharing a nice plate of pasta al limone with Norah Jones playing faintly in the background at a quaint neighborhood spot in the suburbs. I would bet I wouldn't wake up looking like I got hit with a power washer if I filtered my restaurants by "intimate", "relaxed", and "romantic".
Unfortunately for me and anyone I coerce into joining me for a meal, if the word "feral" isn't used in at least one yelp review, I won't go. There better be animals – alive or animatronic – and the night will be chalked up to a complete waste if I don't fear, for at least a minute of my meal, that the restaurant has become an escape room or I'm suddenly living out the plot of Jumanji. My ideal dining atmosphere is "proletariat preparing for an uprising during the peak of the civil unrest during the Middles Ages" and if that means no one is using utensils and I'm as distressed as I was in the mosh pit during a Fall Out Boy concert in 2005, that's fine. If my fellow diners don't check the boxes of escorts, family fallouts where 40+ years of grievances are brought up, midwestern tourists, an underfunded last ditch attempt from a failing tech company to boost company morale, Disney adults, and unintentionally celibate suburban moms, count me out. Please bear with me as I try to land the plane on this.
So when I heard that for $500, Wu's Wonton King, a BYOB Chinese restaurant in the Lower East Side, will bring a living giant king crab to your table then will prepare it three ways while you and the rest of the restaurant's diners torpedo yourselves into whatever state of consciousness the universe has in store for you that evening, I had to go. What followed was a lightly threatening email to my friends hanging over their heads that I have attended everyone's bachelorettes, bridal showers, weddings, etc without reciprocating the favor and I *needed* this.
Without further ado, a lightly hyperbolic summary of our evening: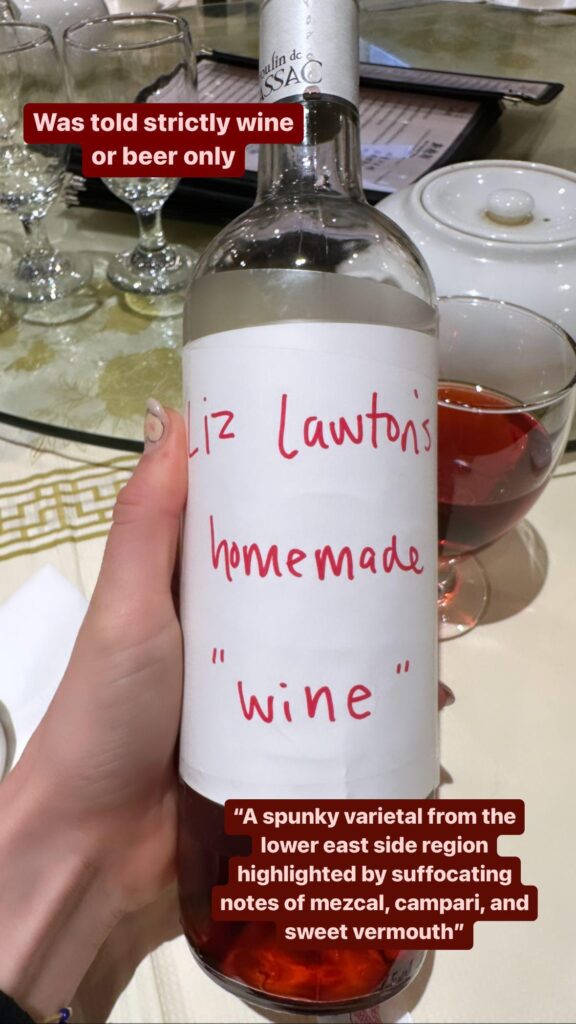 Liz Lawton's Homemade "Wine"
"Our Chinatown Vineyard lies in the questionably sanitary streets of Manhattan's gritty Lower East Side. This perpetually humid hell hole encourages a bold and aggressive blend in order to soften your response to all the outside world will throw at you, however pedestrian. This particular concoction will viciously erode your sense of control with the aim of making you play Russian Roulette with the relationships of those around you. Classic pairings include a trip to the emergency room, reflecting on where your life could be had you applied yourself more in college, commenting on your ex's instagram story with a nondescript emoji, agreeing to go to SoulCycle in less than 12 hours, and chilaquiles.
At least 50 proof so before uncorking we highly recommend putting Spanx on your personality, particularly tucking in those childhood traumas and any commentary on your dietary aversions."
Grade: 97%, best price per cocktail per volume in town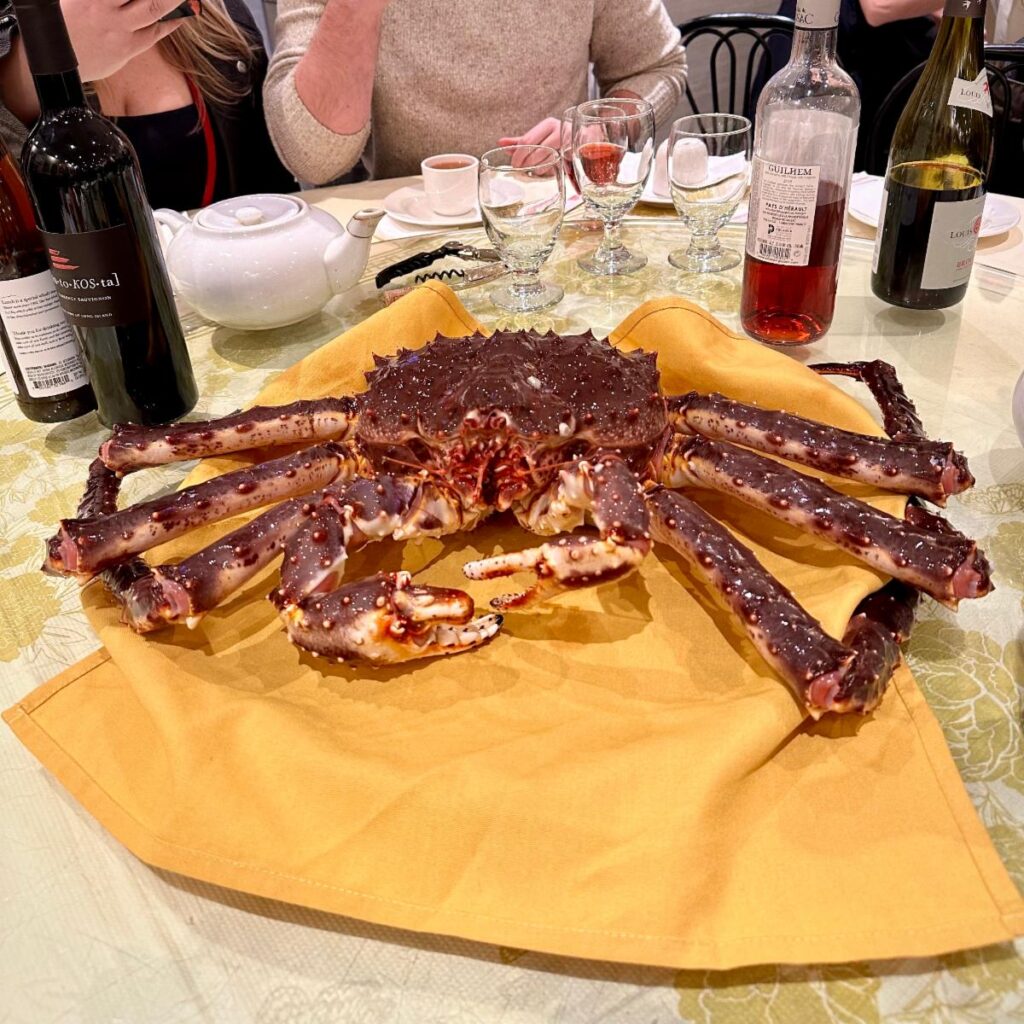 The Introduction to the King Crab
Immediate impression: First, where's PETA; second, this meal is going to get me a ticket to hell faster than a woman being convicted of being a witch in Salem in 1692
Roger Ebert praised this as being: "Dark, like 'The Little Mermaid' version of the Bible"
Your stomach will feel the same as it did after ____ at a local town carnival: Seeing the workers who assembled and control the Zipper ride shooting up behind its trailer
How bacchanal are things at this point: Everyone quickly realized they're too sober to be accomplices in a primitive animal sacrifice
Grade: *googles what Rotten Tomatoes gave The Passion of the Christ*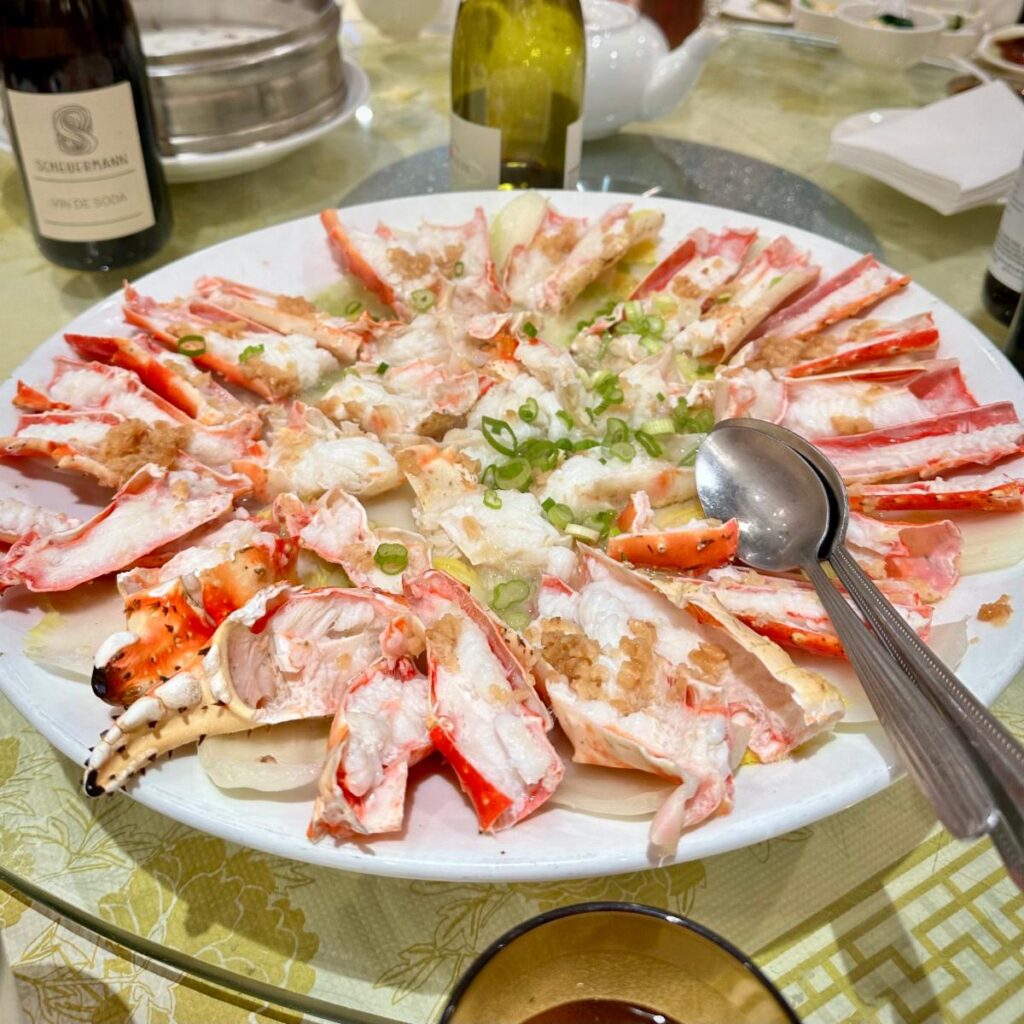 First Course: The Steamed Crab
Immediate impression: This is more excessive than the fact that high schoolers rent limos to go to formal dances in crumbling suburban banquet halls that had their heyday in the 1980s
Roger Ebert praised this as being: "A sardonic Part Two to the mortal perils and intense discomforts of The Deadliest Catch"
Your stomach will feel the same as it did after ____ at a local town carnival: You get off the log ride and find yourself coated in a unknown film that definitely isn't water or sweat
How bacchanal are things at this point: It's incredible how quickly a syringe of MSG into your bloodstream can dehydrate you
Grade: The number of days it took me to stop tasting garlic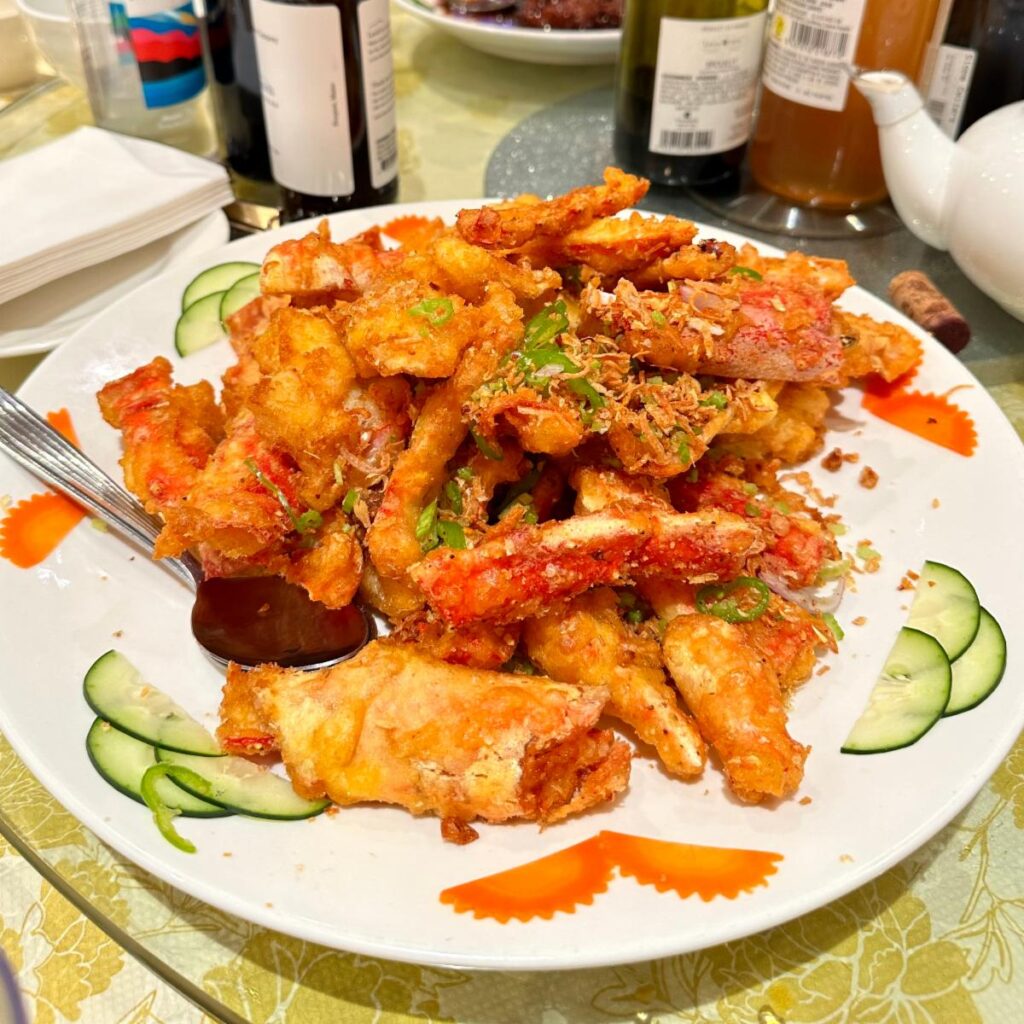 Second Course: The Fried Crab
Immediate impression: This is truly the closest I'll ever be to the Eskimos who flaunt their eco-friendliness by using every part of the whale for basic survival
Roger Ebert praised this as being: "A waning interest in crab that happened faster than that of the general public interest in women's basketball after the NCAA championships."
Your stomach will feel the same as it did after ____ at a local town carnival: Getting a 14 pound bacon wrapped turkey leg because you wanted to feel the novelty of the pedestrian experience
How bacchanal are things at this point: Using more mental power than I did to write my Common Application essays trying to remember what multiple of two I batched the negronis at
Grade: The unknown multiple of two I used to batch my bottle of negronis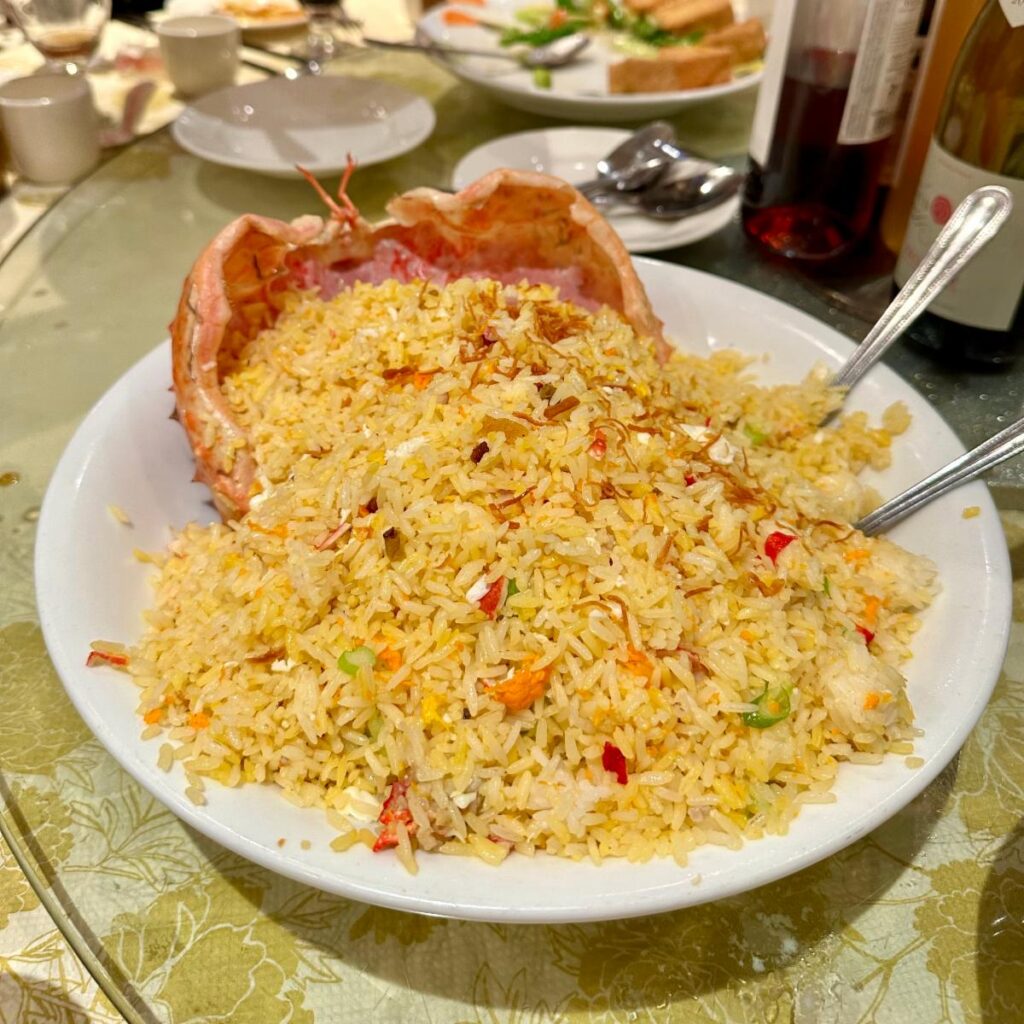 Third Course: The Crab Fried Rice
Immediate impression: The most horrific thing about this entire meal is that this plate of rice also qualifies as an individual sized entree at the Cheesecake Factory
Roger Ebert praised this as being: "Such a grandiose use of eggs in this economy is a flagrant refusal to check one's privilege at the door"
Your stomach will feel the same as it did after ____ at a local town carnival: The brilliant decision to have cheese fries then get inside the human Vitamix known as the Gravitron
How bacchanal are things at this point: Someone from the neighboring table is freehand pouring Casamigos into all of our mouths, like a mother bird feeding her infants
Grade: Would Seamless in the future but only if I had crippling PMS or was feeding a family of 12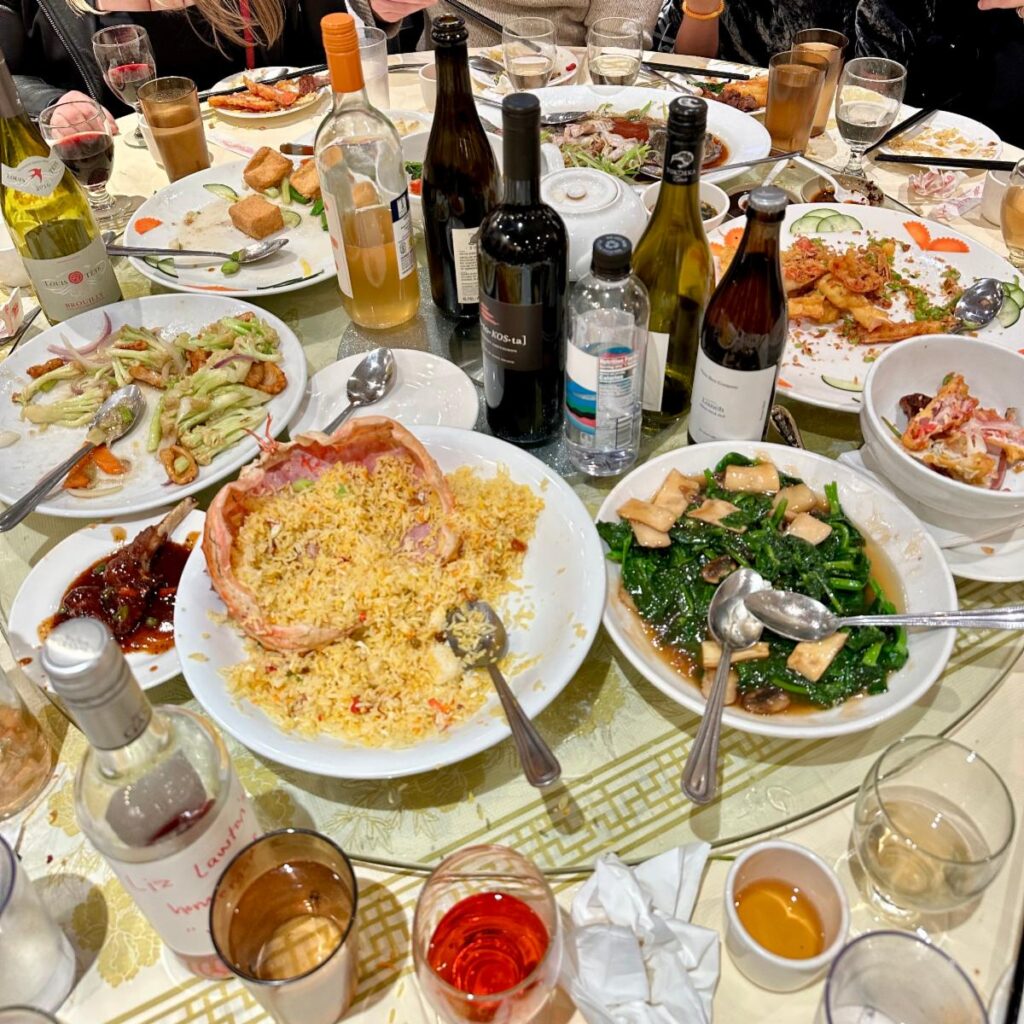 The Aftermath
Immediate impression: This looks like a high school theater cast party in someone's basement where we ordered Panda Express and you either came with a stolen bottle of your parents wine or a water bottle with vodka rations you had ever so slowly been accumulating as not to get caught
Roger Ebert praised this as being: "As chaotic as if you performed Cats at a PF Chang's and only served well liquor."
Your stomach will feel the same as it did after ____ at a local town carnival: You went into the House of Mirrors and saw all 360 degrees of yourself from various vantage points away with overhead florescent lights extracting and exaggerating every imperfection
How bacchanal are things at this point: The only ring of Hell we could responsibly descend to at this point was the bar next door that has a $3 beer and shot special and is crawling with Staten Island Fire Fighters
Grade: You can't put a grade on getting a sizable discount for paying a $1,000+ bill all-cash and in $20s