Times Square, A Brief History if You Dare to Care
^ before we had this, we had that
Me, because these newsletters are a one-woman show with no editorial/overseeing: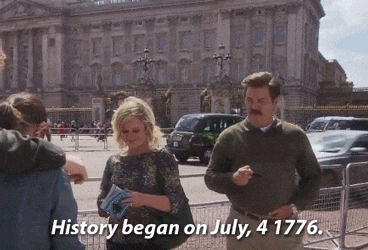 While this is usually my favorite section to write because I'm a misplaced colonial woman, I'm currently being bludgeoned with malaise from my covid vaccine, trying to combat it with coffee #6 of the day at a spicy 8pm so there's a very good chance this section flies entirely off the handles.
So to embrace misery, let's all spend a few minutes together in Times Square: emotionally at the threshold of the M&M's World store, physically trying to avoid getting groped by a 7-foot tall Olaf from Frozen, and mentally digesting the fact that every pedestrian in this chaotic dumpster fire is allowed to vote for our country's politicians. But let us acknowledge that Times Square didn't want to be full of thousands of adults wearing diapers every year on December 31st; so to do her some honor, let's explore the history of this shiny circle of hell:
~1630 – The Dutch, who had settled in present-day Fidi, discovered three active streams at 10th and 40th, which drove settlers north to this area due to the fish and waterfowl. Soon, this became a prosperous area for carriage-making.
~1750-1850 – The area was owned by a general of the New York militia, John Morin Scott, whose manor stood at 43rd Street. He used the countryside of his estate to farm and breed horses.
~1850 – John Jacob Astor purchased the property as his empire marched uptown; he was quickly buying lots for cheap and selling them off to hotels and other real estate concerns.
1872 – The area had become the epicenter of carriage making, which earned it the name Longacre Square, after London's carriage district. Soon the American Horse Exchange became located here as well, whose building later became the first Broadway theater.
~1890 – The industrialization of Lower Manhattan pushed homes, theaters, and prostitution northward, earning the neighborhood the nickname The Thieves Lair, due to some shady happenings. However at this time, Oscar Hammerstein, championed the first theater on the square, The Olympia.
1904 – The New York Times moved to the newest skyscraper built at 42nd Street (the same building the ball drops on every NYE), and the publisher convinced the Mayor at the time to not only put a subway stop at the building, but to also rename the neighborhood "Times Square".
1913 – The intersection of 42nd and Broadway was chosen as the Eastern Terminus of the Lincoln Highway, the first road across the United States, running 3,389 miles coast to coast, through 13 states, to its western terminus in Lincoln Park in San Francisco
1918-1925 – The neighborhood became the hottest hub for theaters, music clubs, and upscale hotels. Advertising ballooned here, from $25 million to $85 million, over the decade, however with this came rampant gambling and prostitution.
1930 – The Great Depression saw most residents move uptown in search of cheaper rent, causing many popular theaters to shutter, and instead be replaced by saloons, brothels, burlesque halls, vaudeville stages, and dime houses.
1942 & 1943 – These years marked the only hiatus for the New Year's Eve ball drop, due to nationwide lighting restrictions due to WW2; instead, a moment of silence was observed at midnight.
1960s – The neighborhood became overrun with sex shops and adult theaters, an infamous symbol for the city's decline at the time. In 1960, 42nd Street between 7th and 6th avenues was universally regarded as the most dangerous street in New York.
1970s-1980s – Conditions only worsened (as they did in the rest of the city) and by 1984, an unprecedented 2,300 annual crimes occurred on that single block of 42nd, of which 460 were serious felonies such as murder and rape. The area was so abandoned at one point during the time, that the entire Times Square area paid the city only $6 million in property taxes, which is less than what a medium-sized office building in Manhattan typically would produce in tax revenue today in 1984 dollars.
1990s – Led by Mayor Giuliani, alliances and organizations were formed to clean up the neighborhood, evict all nefarious business, revive Broadway, and effectively "Disneyfied" the neighborhood, with larger-than-life Americana classics.
2000s – I'm going to stop writing here because I refuse to acknowledge the period of time in which I was 13 years old and older as "history". Summery: there was a naked cowboy and a lot of highly questionable 6-foot tall Elmo's.