Dame, Where I Spent Too Much in 2021 as Far as My Accountant Is Concerned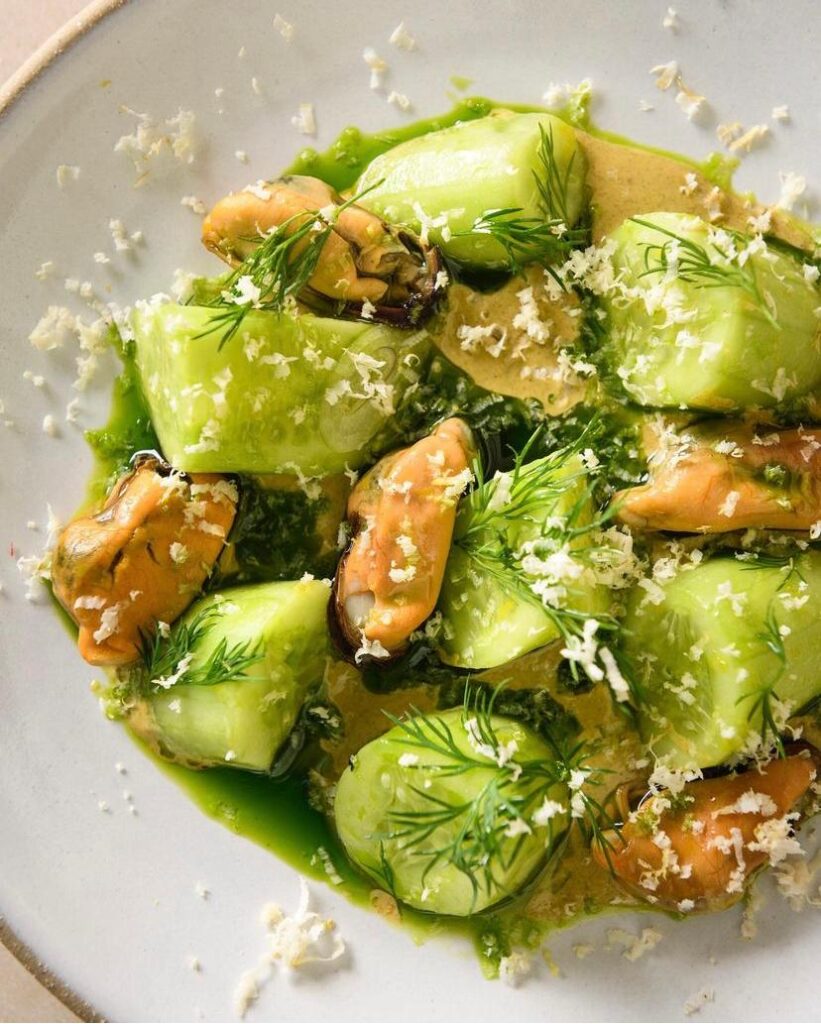 ^ Paying homage to the now-out-of-season Cucumber Salad with Smoked Mussels & Dill bathed in an emulsified mussel sauce that I will serve as a soup at my highly improbable future wedding
Things Customers Said To Me When I Waitressed at an Overpriced Seafood Restaurant in Cape Cod
"What gender is my lobster?" (while not smiling and looking down at a lobster tail whose reproductive area has been replaced with a mound of stuffing)
"Give us a dozen oysters…but we're blaming you if we get frisky tonight"
"This is low cal, right?" (while smiling at their clam chowder)
"What's your least fishy fish?"
"Can you wrap this?" (while smiling and looking down at an empty plate with 8 shrimp tails)
"Weren't you here last summer? Why are you still here?"
"Can you wrap this?" (while not smiling and looking down at two French fries and a single bite of fish and chips that is solely batter)
Seafood restaurants are a tough business. Most dishes don't have a ton of room for interpretation so the execution must be perfect and quality bar none in order to elevate above the accepted standard. Since freezing seafood greatly impacts the flavor and consistency, supply must be local or you have to foot a hefty bill to get it from the docks to the kitchen as quickly as possible. With pricy ingredients and an unforgiving stopwatch to work under, it's not surprising that seafood restaurants priding themselves on excellence aren't numerous away from the shore.
Then in came Dame, the new crown jewel of the Manhattan seafood game, boasting one of the hardest reservations to get in the city. The adorable spot on MacDougal could've gone a white tablecloth route, but instead embraced its quirks with playful yet ingenious dishes, playing fresh seafood off seasonal vegetables, all in a cozy and slightly retro space blaring a blended soundtrack of disco and top-20s. Seeing I've developed an intimate relationship with their Tuna Tartare so have been there quite frequently, here's a rundown of their menu mainstays.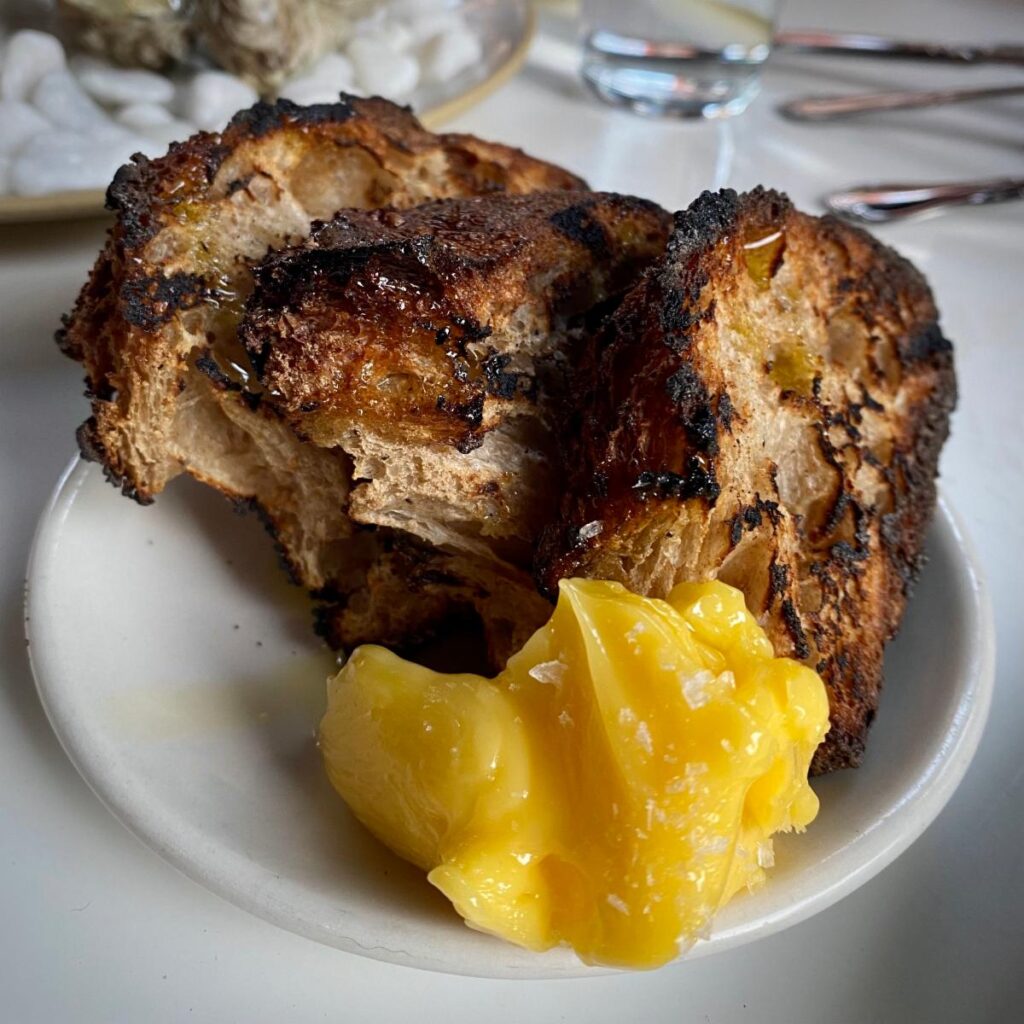 Sourdough Bread & Butter
Olive Garden did to pre-dinner bread what the mid 90s did to fanny packs – it took a functional part of society and made a mockery of it, cloaking it in comical excess and painting any of its followers an uncouth fool.
Dame has taken this oft-discarded starter and make it an essential part of the meal. The bread comes from standout bakery Mel and the homemade salted butter is whipped to a perfect consistency so it spreads effortlessly, the ideal amount of creamy sweetness cut by thick flakes of sea salt. Most dishes come with excess sauce so throw in at least one order as a flavor mop so nothing goes to waste.
Grade: 13/10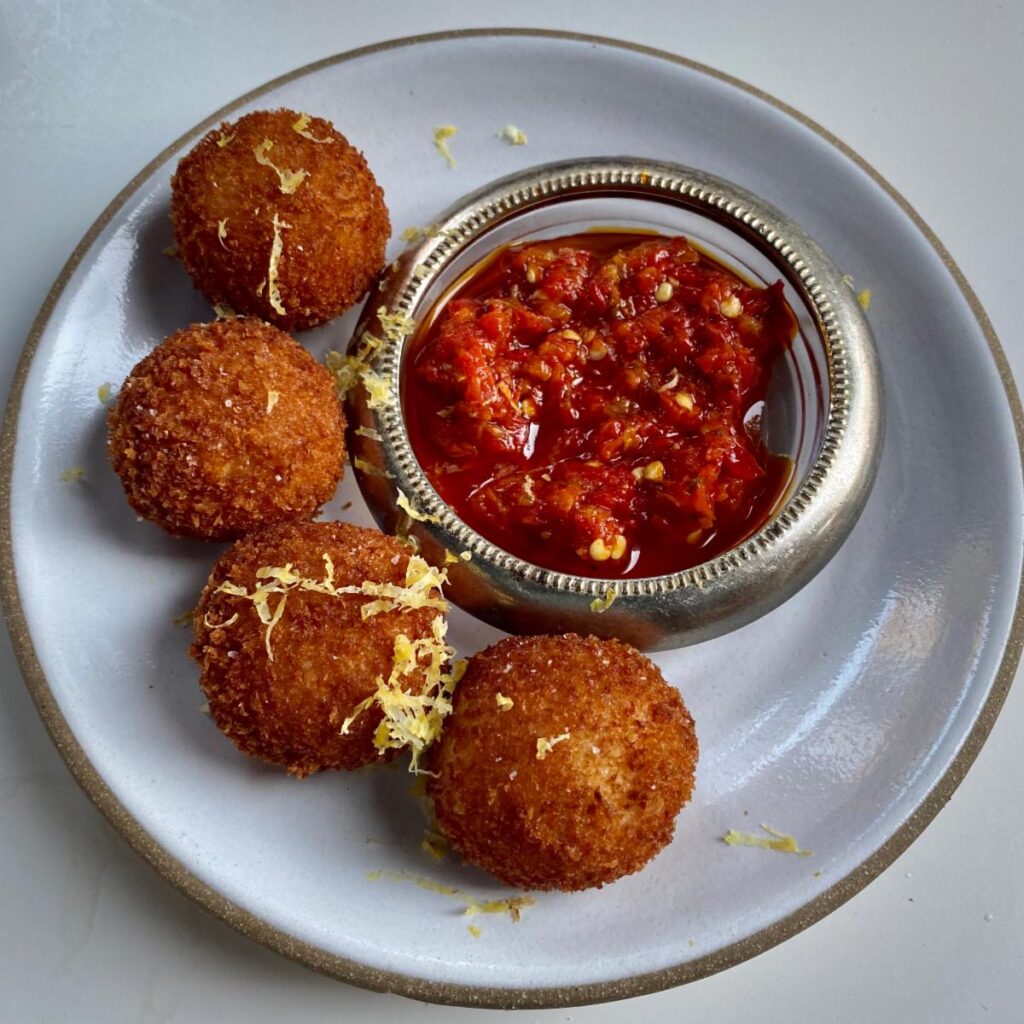 Smoked Whitefish Croquettes
As far as I'm concerned, Croquette essentially means mozzarella stick that had botox, a grown up rift of the classic. But instead of mozzarella, since our failing metabolisms forced us to graduate from eating melted rectangles of mild cheese in our late-20s, we instead fill it with meat or veggies, slap a fancy french word on it, and feel better about eating deep fried food.
Since I have the palette of a Jewish grandmother and was explicitly told by my MD that lox should not be eaten daily, I will anchor my soul to these croquettes. These little hot globes hold a creamy whitefish core only a breaded crisp away, all complimented by a red chili dip to dial up the dimension.
Grade: 10/10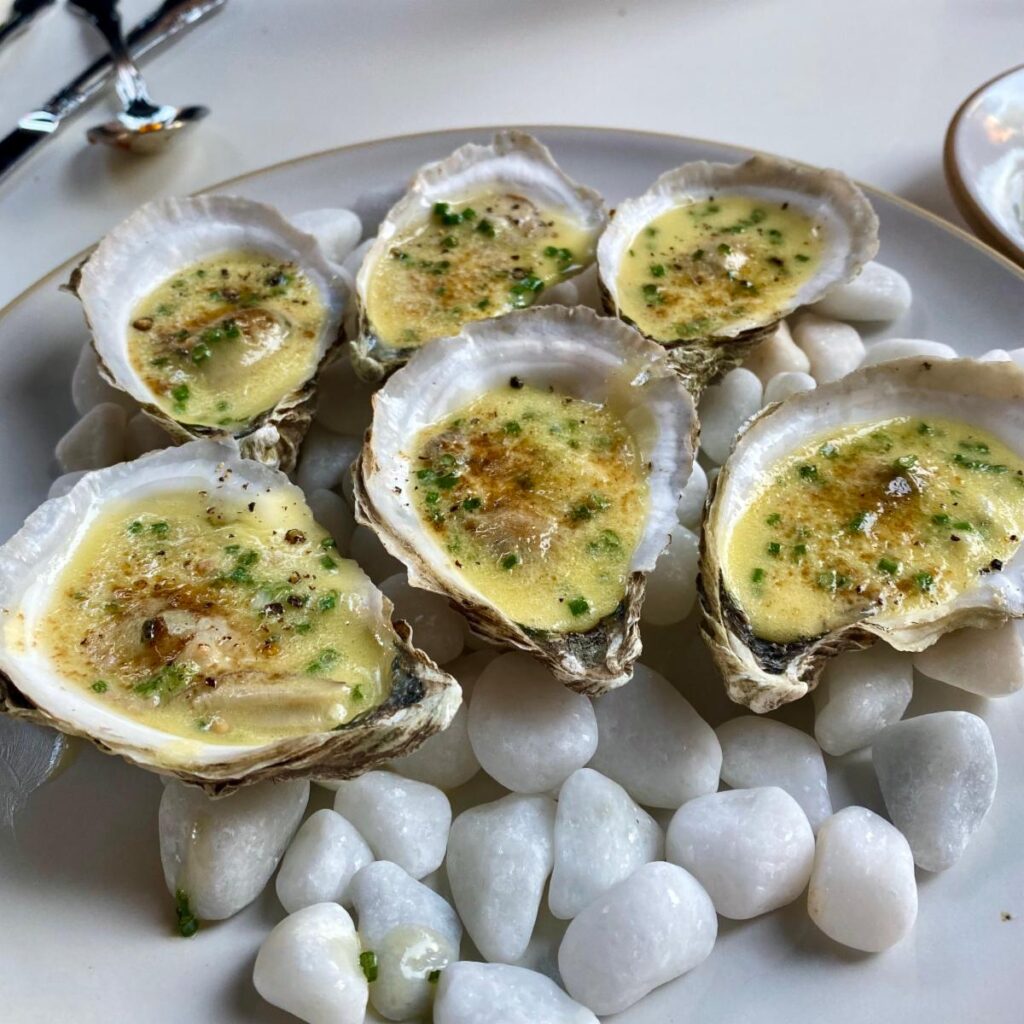 Grilled Oysters with Green Chartreuse Hollandaise
Hollandaise is one of the sluttiest words in the culinary world. Whenever it appears, it elevates the dish to pornographic status, laying itself out sultrily, like a cascading plush yellow robe. Hollandaise has the same transformative effect on food as plastic surgery has on the Kardashian family – what it has done for asparagus alone qualifies this statement.
While well-prepared, high quality oysters need no assistance, I cannot begin to put into words the sexual awakening your palette undergoes when oysters are topped with hollandaise and a touch of green chartreuse then broiled. Dietary opulence at its finest.
Grade: 17/10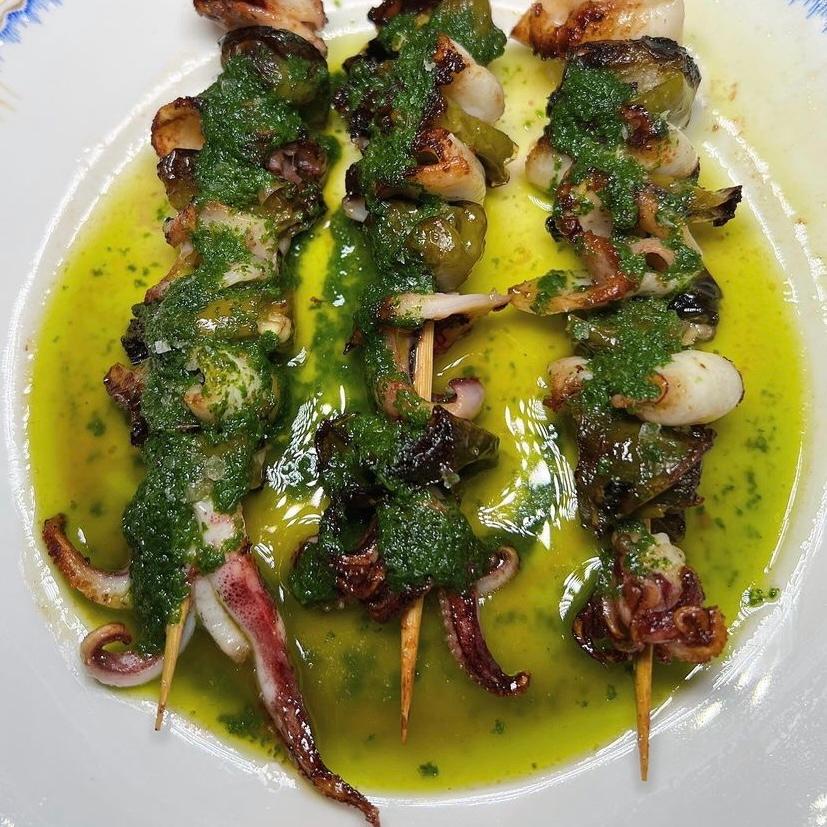 Squid & Shishito Pepper Skewers
There's just something about eating food that looks exactly like it did when it was living. Chicken feet, fish heads, the full duck at a Chinese restaurant – wrapping your mind around swallowing something's legs or looking into its eyes takes a minute. Hence why when you order calamari, the rings are the first to go; people pause with the tentacles.
That is, until you're staring at skewers of artistically grilled squid, legs romantically bathing in a pool of herb pistou. They're cooked to perfection; tender and delicate with just enough quintessential calamari chewiness. Not a must order but an excellent dish if you're in the mood.
Grade: 9/10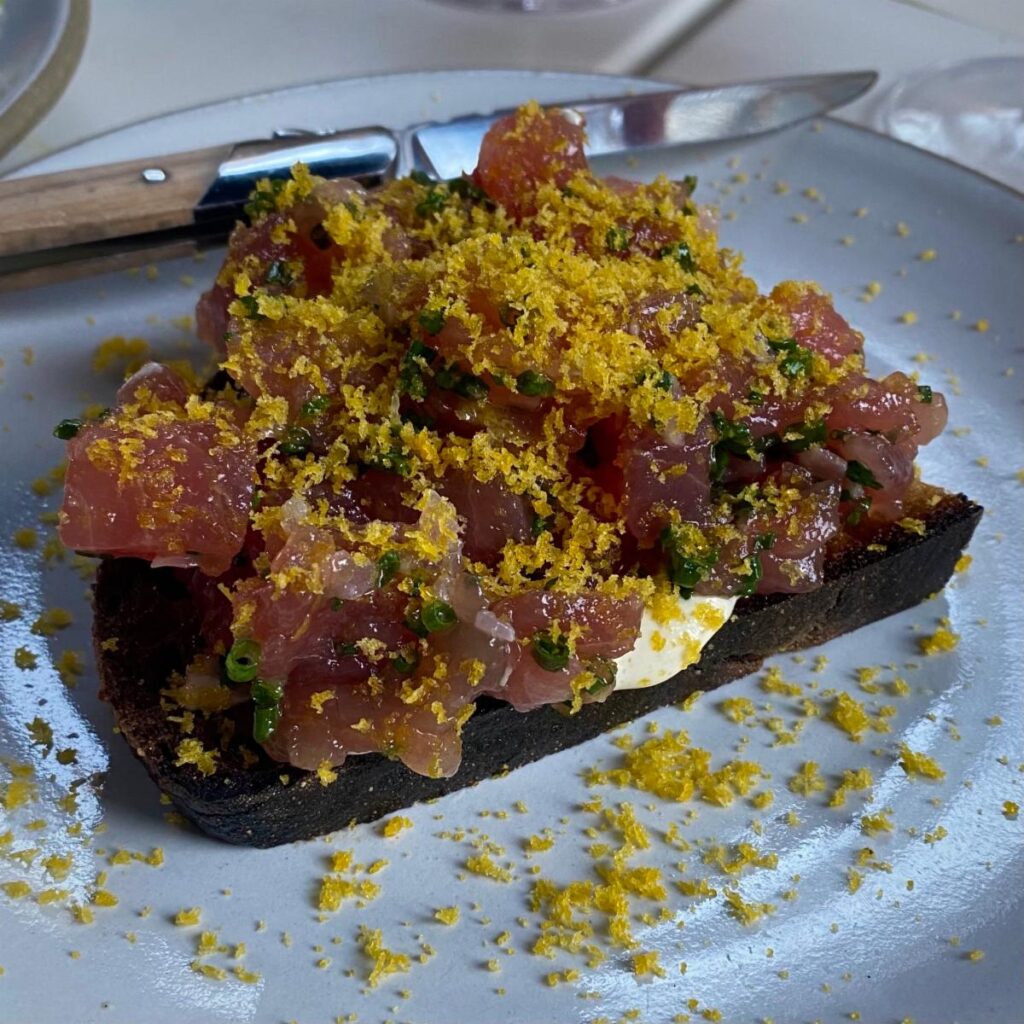 Tuna Tartare & Bottarga on Toast
Remember Tower of Terror in Disney? You'd stomach hours under the oppressive Florida sun, in a sluggishly crawling line, just for a ten seconds of a highly built up free-fall. You'd beg your parents to go back again the next day and after the trip, *this* was the ride you told all your friends about.
Let me tell you about the only dish in New York I've ordered another to-go in the middle of the meal so I could eat it again the next day. The trouble you'll go to getting a reservation here is worth this generous pile of jewel-toned cubes of tuna, all atop some divine spread that I want to coat my entire body in. While I'm known to speak in hyperboles, I stand firm that this is the best seafood dish I've ever had.
Grade: 400/10 (I know this is dramatic but I don't care, it's my newsletter)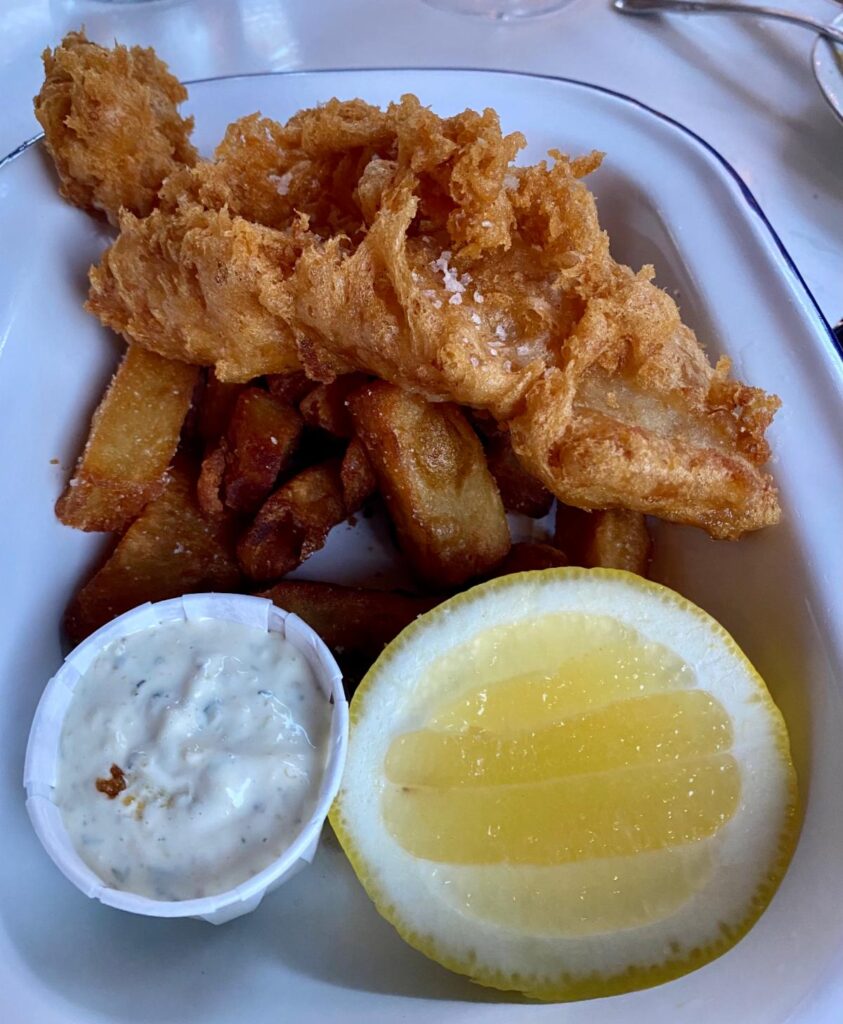 Fish & Chips
We have to take pity on fried fish, it was born with a tragically low ceiling. Filet-O-Fish cemented its fast food status and no fast food fish is posting on Linkedin about its Michelin Stars or Eater nods. Too often it turns out like an old gym sock: suspiciously soggy, squishily breaded, and skeptically smelling.
However – the wizardry happening within Dame's fryers is borderline illegal because they have somehow mastered encapsulating fish inside a weightless cloud of batter that melts away in your mouth like cotton candy. This airy pillow paired with a pile of crisp, trice-fried potatoes is the new poster child for the "Make Fried Fish Gourmet" movement.
Grade: 15/10